Seniors spark
LHS

past Mill Valley,

THS
On a night that was seven years in the making, the Lansing High volleyball team's six seniors ended their home careers with two convincing victories.
The seniors, who have played together since the sixth grade, all played critical roles in guiding LHS to impressive victories over Kaw Valley League rivals Mill Valley and Tonganoxie on Tuesday night.
Photo Gallery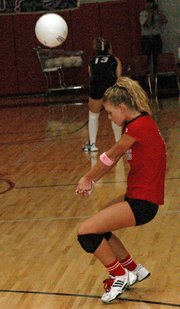 LHS hammers Mill Valley, Tongie on Senior Night
The Lansing High volleyball team sent its seniors out in style as it hammered Mill Valley and Tonganoxie on Senior Night at LHS on Tuesday night.
Lansing (21-3) hadn't seemed to play as good as its record indicated for much of the season, but against Mill Valley and Tonganoxie the Lions put together two flawless matches and showed a glimpse of just how dangerous they could be when postseason play arrives.
LHS took down potential regional foe Mill Valley, 25-22, 25-23, and then pummeled Tongie, 25-10, 25-13, in front of an energetic home crowd.
"We got some fans to come, so we really couldn't lose in front of them," senior outside hitter Casey Welch said. "The six of us have played together since sixth grade, so it was so important to go out winning in this town because this is where we started."
The seniors - Dayna Norwood, Dana Sanders, Keele McLaurin, Whitney Lozenski, Lauren Griffen and Welch - all played major roles in the victories.
Norwood had a team-high 11 digs. Sanders had 25 assists and eight digs. Lozenski had 13 assists. Griffen had two kills and two blocks. McLaurin had four aces and seven digs. Welch added a team-high 19 kills and, eight digs and three aces.
The three juniors also did their part to make sure the seniors went out on a high note. Riann Deere had eight kills, Jessie Delinger added six kills and Kate Courtney had four blocks.
"I just thought they all played (great) - especially the seniors," LHS coach Julie Slater said. "The seniors, they were just awesome."
The Lions ran on emotion the entire night. They were fired up to play the Jaguars, and it showed. They took a 6-1 lead in game one and never looked back. Then, in game two, LHS matched the Mill Valley point for point before Welch smashed a kill and fired an ace to seal the victory.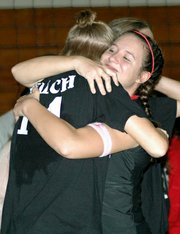 As impressive as Lansing was against Mill Valley, the Lions turned things up another notch against the Chieftains. They scored the first six points of game one, but that was just the beginning. Welch, Griffen, Delinger and Deere smashed kills. Courtney stuffed shots at the net. Norwood sprawled on the floor for digs. The Lions outhustled the Chieftains and were nearly flawless.
As the Lions roared through game two and built an insurmountable lead, Slater had an idea. She adjusted her rotation and gave her seniors one final hurrah together.
"I think the best part of the night was that we finished with all six seniors on the court," McLaurin said. "We've been talking about this since sixth grade and it's just so awesome that we've made it this far together."
Lansing next competes at 9 a.m. Saturday at the Anderson County-Garnett Tournament. Then they'll travel to Mill Valley at 5 p.m. Tuesday to play St. Thomas Aquinas, Olathe South and Mill Valley.