Tennis turns focus to regionals
Prior to the start of the 2005 season, it wasn't likely that many people would've given the Lansing High girls tennis team much chance of qualifying any players for state.
After two months of hard work and a season full of successes, first-year coach Rachel Elkins wants people to think again.
"Personally, with all of our progress this year, some people still may ask, 'Is state an attainable goal?'" Elkins said. "And I say yes, I think it is."
Photo Gallery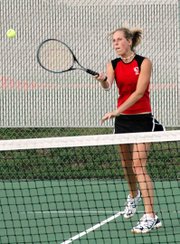 Girls tennis makes strong showing at Mill Valley
The Lansing High varsity tennis team competed against Mill Valley and Shawnee Mission Northwest on Tuesday at Mill Valley.
Elkins has plenty of reasons to believe it. For one, her squad placed in the top four as a team in every tournament it played in so far this year. Her players have become accustomed to bracket play, the format they will see at regionals.
Most important, however, is that her players have refined their all-around skills. Instead of lobbing their serves over the net, they all have learned to serve with power. They also have improved their ground strokes and learned to place their shots.
Lansing delivered a strong performance on Tuesday during a triangular against Mill Valley and traditional Class 6A power Shawnee Mission Northwest. Junior Heidi Schultz picked up a pair of impressive victories at No. 2 singles, while junior Kersten Probst dropped two tough matches at No. 1 singles.
At No. 1 doubles, seniors Bethanie Hill and Lindsay Parks lost in a tiebreaker, 9-8 (7-0), to Mill Valley and then dropped a 9-7 decision against Northwest. At No. 2 doubles, seniors Rachel Darrow and Jaclyn Gann smoked Mill Valley, 8-0, before losing, 9-7, against Northwest.
"This is good. This is the way you need to get ready for regionals," Elkins said of playing tough competition. "You need to meet somebody like Shawnee Mission Northwest and get a taste of the upper-level competition. And look at the scores. They reflect that we're there. We're right on the edge."
The Lions will play at 9 a.m. today at the Gardner Tournament in their final tune-up for regionals. In addition to Gardner, regional foes Mill Valley and St. Thomas Aquinas will be there. That will give Elkins a better idea of how her squad stacks up.
"I think everybody will show up with their A bag with all teams getting ready for regionals," she said. "It will be about (making) the mental adjustment to the colder weather, and we'll see who really wants it."
Regionals take place Monday at the Indian Creek Racquet Club, 7401 W. 103rd St., in Overland Park. Participating teams will be Lansing, Aquinas, Mill Valley, Gardner, Blue Valley West, Washington and Bishop Miege.