Lindsay N. Edmonds and Malachi C. Lones were married May 28, 2005, at Wallula Christian Church, Lansing. The ceremony was officiated by the groom's father, the Rev. Mark Lones.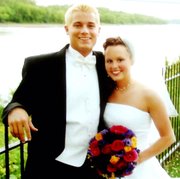 The bride is the daughter of Ellis and Kathy Edmonds, Leavenworth. She graduated from Lansing High School in 2001 and from Kansas State University in 2005 with a degree in business management.
The groom is the son of Mark and Pam Lones, Lansing. He graduated from Mission Oaks Christian School, Westwood, in 2001 and is currently completing a nursing degree at Washburn University.
The bride was escorted down the aisle by her father.
Adria Edmonds, sister of the bride, was maid of honor. Bridesmaids were Brittany Childress, Meredith Lones and Alice Zeorlin. Flower girl was Hope Edmonds.
Jeremy Ziegler, friend of the groom, served as best man. Groomsmen were Mo Lones, Ellison Edmonds and John Edmonds. Ring bearer was Justin Welch.
Ryan Hunter, Evin Sprauge, Austin Reynolds and Cameron Gowell were ushers. Pianist was Laura Sprauge with Tom Reynolds as soloist. Kendra Stoehr was guest book attendant and scripture reader. Candlelighters were Kelsey Fleenor and Connor Twombly.
A reception was held at Riverfront Community Center, Leavenworth, after the ceremony. Hosts were Donald and Charlene Edmonds and David and Connie Whitmer.
The couple took a honeymoon to Branson, Mo., as a gift from the bride's grandparents. The couple now reside in Topeka.