First-year teacher hopes to influence students
Lansing High School's new business teacher is trying to bring some fresh ideas and fun into his classroom while still preparing his students for life after high school.
Dustin Myers, a first-year teacher, is in charge of computer literacy and computer application classes, which comprise part of the business curriculum. Computer literacy is mostly for freshmen and teaches students typing and formatting, Myers said; computer applications teaches sophomores, juniors and seniors how to design materials using a publishing program.
Myers said a high school business teacher of his inspired him to become one himself. When the Lawrence native was recruited to play baseball at Emporia State University, it so happened that the school had a good computer-teaching program, he said.
"It seemed like the right choice," he said he said about his career.
One of Myers' goals in his new position was to freshen up the curriculum, which he said was "kind of blah" before. He said he tries to switch up the classes' activities to keep students engaged. And his "kooky" personality helps to liven up the classroom, too, he said.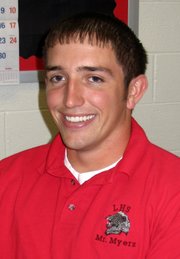 "I like to jump around the room and make a dork of myself," Myers said.
Another way Myers said he tried to hold his students' interest in the class was by showing them how they can use the skills they learn later in life.
"I'm trying to make the connection with the students to see why they need this in the real world," he said. One example is having students write a letter of application to a college, Myers said.
In addition to teaching lessons for the classroom, Myers said he wanted to "help (students) choose the right path." He said he tries to accomplish that by exposing the students to inspirational quotes. Each week, the students get two new quotes, which they type into a quote bank. His hope is that students will learn the lesson, "Think before you do," he said.