LEAP

grad beats odds at

KU

, in housing job
Lawrence — Josh Cain, a 2003 Lansing High School graduate, overcame long odds to become a resident assistant this summer at the University of Kansas.
Cain, a KU junior, was one of only eight new hires selected from an applicant pool of 300 for the job with the university's housing department in May.
Cain's motivation to apply for the job was not solely based on its benefits of provided housing and meal plans.
"You don't do it for the free room and board. You do it because you like to work with students," he said.
After completing the summer job, Cain was hired for the full academic year and now spends his time divided among a full class load majoring in Information Systems Technology, being a member of Theta Chi fraternity and the full-time job of being a resident assistant.
After an extensive application process that began last March, which included several one-on-one and group interviews, Cain was selected as one of only three Leavenworth County resident assistants or proctors to be hired at KU.
He is assigned to Jayhawker Towers, a student-housing complex comprised mainly of upperclassmen and athletes. He shares the responsibility of caring for the approximately 250 residents of Tower D with another resident assistant.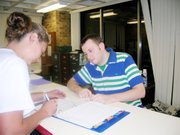 For Cain, it was initially challenging to advise this large number of students.
"We're supposed to learn all of their names, but that doesn't work very well," he said.
Disciplining the diverse group of students that lives in the Towers is always interesting, Cain said. His main duties include documenting inappropriate behavior such as alcohol or drug infractions, responding to complaints and noticing any prohibited items in the rooms, such as candles or incense.
"We run into everything from mopeds in the hallway to marijuana or noise complaints," Cain said.
The most common complaint usually involves alcohol, Cain said, because while most residents are over 21 years old, alcohol is prohibited in all on-campus KU student housing.
"Its just hard to tell a 300-pound athlete that they have to pour out $200 worth of alcohol," he said.
Cain's other resident assistant duties account for approximately 10 hours of work per week, including six desk hours, three hours of staff meetings and an hour of programming monthly social and educational events for the residence.
In addition, Cain is on-duty one full night per week, from 5 p.m. to 8 a.m., when he must carry a pager and cannot leave the housing complex. Every night there is a 2 a.m. curfew for resident assistants, which is in place so they will be available in the building to respond to possible middle-of-the-night fire alarms.
Cain is compensated for his duties with full room and board, a bi-weekly stipend of no more than $70. He gets 10 nights off per semester.
After attending Leavenworth High School for three years, Cain graduated with a Lansing High School diploma through the Lansing Educational Achievement Program (LEAP), 826 N. Main St. This program allows nontraditional students over 18 years old to complete their high school diploma at their own pace. Cain was able to complete his last junior and senior "years" of high school in less than a year and said the program prepared him well for college.
"If it wasn't for that (LEAP), I wouldn't be at KU today," he said.
Cain, son of James and Christina of Leavenworth, plans to apply to the business school this spring and graduate from KU in May 2007. When he is not working, he said he enjoys running and eating at expensive restaurants, something he can afford because all his other meals are paid for.
Cain said he was not certain if he would return to the job next year, but he's enjoyed his experience so far this semester.
"The best thing is meeting 200 different people with completely different backgrounds and working with a great staff. Without these guys, it wouldn't be half as fun," Cain said.