Science teacher aims to fill lab with 'wonder'
New Lansing High School science teacher Wes Cackler claims he has no educational philosophy - he says he just wants students to like learning about science.
"I just want to make it exciting and keep it interesting and make it something kids want to be involved in," Cackler said. "I want them to look forward to it with excitement and wonder."
This year is Cackler's 11th teaching. He came to Lansing from Turner High School, where he taught mainly physical science. He teaches the same subject at LHS, as well as anatomy and physiology, and biology.
Cackler said he wanted to teach in Lansing because he has been living here for the past six years and he "wanted to get into the schools where I lived."
"I wanted to get to know the kids I live around. They haven't made me regret it yet," he joked.
This year was a good time to make the switch to Lansing, Cackler said. He joins the district where his oldest daughter is starting kindergarten this year and one of the schools where his wife teaches. Patricia Boe-Cackler works for Leavenworth County Special Education Cooperative and teaches gifted students at LHS and in Tonganoxie. The Cacklers also have a two-year-old daughter.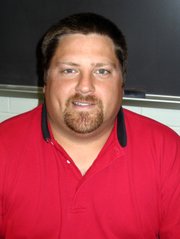 In the past, Cackler said he got to know a lot of students through coaching sports - soccer, track, baseball, basketball, football and golf. As a coach, he said, he got to see his students from a different perspective.
However, Cackler said he wouldn't be coaching this year so that he can adjust to his new students and a different curriculum. Instead, he said he would challenge his new classes through a variety of projects.
Cackler said he liked to give the classes projects that they think can't be done. In one experiment, Cackler said students will get a sheet of aluminum foil and will have to make a boat that will float two dozen golf balls.
"It's interesting to see what happens," Cackler said.