Taxpayer's Bill of Rights tour finds scant following locally
The American Dream ended Friday afternoon in Leavenworth - the "American Dream Express" tour, that is.
Americans For Prosperity, a national anti-tax organization, completed its four-day, 23-city bus tour with a stop at Fourth and Cherokee streets in Leavenworth to promote the group's flagship campaign, a "Taxpayer's Bill of Rights" or TABOR, for Kansas, similar to a 1992 law passed in Colorado. The Kansas version of TABOR would limit tax increases by tying them to population increase plus the rate of inflation.
The tour's final stop in downtown Leavenworth attracted a smaller audience than the number of people who rode on the bus chartered for the tour, for a total audience of about 15 people.
Alan Cobb, Kansas director of Americans for Prosperity, said the small turnout didn't disappoint him.
"We've had good turnouts in other cities," he said. The Wichita Eagle reported that about 60 people came to the tour's stop in Wichita, a third of them protesters.
In addition to Cobb, Louis Klemp, former Leavenworth city commissioner, also spoke, followed by Steve Fitzgerald, a Leavenworth man who ran a failed campaign in the Kansas Senate's 5th District in 2004.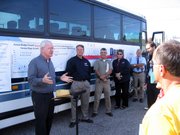 Fitzgerald said he strongly supported a Kansas TABOR, but nonetheless sounded a note of pessimism that rang harshly for the small group trying to remain upbeat in the face of scant public interest.
"This campaign will not be successful. I'm sorry, Alan. The ignorance and apathy of the people have prevailed," Fitzgerald said. He cited consistently low turnouts and attendance at elections and local government meetings in which property tax increases are discussed.
Asked about Colorado's TABOR and the $350 million deficit critics say resulted from the law, Cobb said an amendment passed after TABOR was to blame. Amendment 23, passed in 2000, requires a minimum yearly increase in per-pupil K-12 education spending by the rate of inflation plus 1 percent every year for 10 years. After 10 years spending would increase annually by at least the rate of inflation.
Colorado Gov. Bill Owens, once a TABOR advocate, has asked Colorado voters to pass a referendum that would suspend TABOR's requirement that budget surpluses be returned to taxpayers and allow the state to keep $3.7 in excess revenues in the next five years.
The Kansas TABOR would differ from the Colorado law, Cobb said, by requiring an emergency fund and a budget stabilization fund. These would be funded as set-asides of 3 percent and 7 percent of the state's yearly budget. If a Hurricane Katrina-proportion catastrophe struck and the state couldn't cover relief measures with the emergency fund, a Kansas TABOR would allow legislators, with a two-thirds majority, draw from other funds in the budget.
Americans for Posterity and other anti-tax groups are expected to push for the Kansas TABOR amendment in the 2006 Legislature, which convenes in January. The amendment would require approval by two-thirds majority of both the Kansas House and Senate. It then would be put before Kansas voters and would become law if a simple majority of them approved the measure.
¢ Guest columnists discuss the pros and cons of TABOR. Page 4A.