Stephanie Williams and Davis Hodam were married July 30, 2005, at Saint John United Church of Christ in Lincoln, Ill. The Rev. Steve Slack officiated.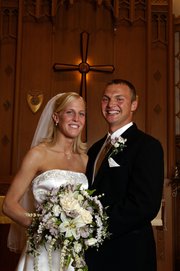 The bride is the daughter of Tom and Mary Williams of Grant, Mich. The groom is the son of Rick and Janie Hodam of Lansing.
The wedding party included Derrick Hodam, the groom's brother, as best man and Anna Cuddie, the bride's sister, as matron of honor. Groomsmen were Bryan Shelley, John Van Daley, Mike Strouhal, Brian Healey, Mike Hull and Jimmy Werbin. Bridesmaids were friends of the bride from Grant High School and Lincoln Christian College in Lincoln, Ill.
Scripture was read by Kevin Haslam. Soloist was Holly Kane. Ushers were Thomas Kane, Joe Williams and Nick Runnebaum. Chauffer was Case Collard. Ring bearer was Tyren Shelley, the groom's godson, and flower girl was Makayla Cuddie, the couple's niece.
A reception was held at Henderson Hall in Lincoln. The couple enjoyed a honeymoon cruise to the Bahamas.