Lansing rolls past Immaculata
Lions win final game of rivalry series
Perhaps somewhere down the road the Lansing High-Immaculata football rivalry will be continued, but for the next two years they definitely won't meet on the gridiron.
With Lansing moving from Class 4A to 5A next year and IMAC falling from 3A to 2A, the gaps in attendance, number of players and level of talent simply have grown too wide. Their meeting Friday night at Frank Graham Field did plenty to demonstrate the differences.
The Lions pounded the Raiders, 32-7, and held a commanding 326-76 advantage in total offense. Despite the lopsided score and statistics, the Lions admitted they didn't even play particularly well.
"I think we're a pretty good football team. We just have to keep our intensity level up where we can play all four quarters, and I think once we learn to do that we're going to be pretty tough. We're going to be a pretty tough team," LHS coach Bill Pekarek said.
Lansing (5-1 overall, 4-1 Kaw Valley League) looked tough early. It wasted no time asserting control of the game. It got the ball first and rattled off a four-minute, nine-play drive that covered 61 yards. Senior quarterback Matt Warner's 21-yard touchdown strike to senior fullback Lance Fink resulted in the game's first score. The extra point failed, but LHS held a 6-0 lead.
Senior David Kern picked off Immaculata quarterback Derek Kooser's pass on the ensuing possession. That gave the Lions the ball on the Raiders' 30-yard-line. Two plays later Warner connected with junior receiver J.T. Collins for a 29-yard touchdown. The two-point conversion failed, but Lansing upped its lead to 12-0.
After forcing a three-and-out, The Lions got the ball back again. This time a 25-yard run by Warner set up Fink's eight-yard touchdown run up the gut. That gave the Lions an 18-0 lead with 1:01 remaining in the first quarter. By then the game already was out of hand.
As quickly as the score ballooned, the Lions suddenly let down. The Raiders (0-6, 0-6) marched all the way to the Lansing 20-yard-line before Brett Wessel forced a fumble that Ryan Robbins recovered. On the next possession, Warner threw an interception in the end zone that stalled out a drive. Junior cornerback-tailback Kyle Grape intercepted a pass and returned it 34 yards. That gave the ball back to the Lions, but again they were unable to capitalize so the 18-0 lead stood through halftime.
"We came out explosive there in the first couple drives and we put up three consecutive touchdowns and then everybody got comfortable with an 18-point lead. We can't be having that. We can't be having everybody slowing down. We've got to keep going 100 percent the rest of the game," Robbins said.
The Lions regained their spark in the third quarter. Strong defensive play by Robbins, Logan Ryan, Mycol Bowen and Jason Bowman led to a pair of three-and-outs for the Raiders. Then LHS put together a five-play, 28-yard scoring drive that was capped by Grape's one-yard plunge up the middle. Robbins' extra point put Lansing ahead, 25-0.
Robbins' sack on the first play of IMAC's next possession led to another three-and-out. When Lansing got the ball back it marched down the field for another score. This time the touchdown came courtesy of a 34-yard touchdown bomb to senior Jeff Slater.
Slater was playing in his first game of the season after missing the first five contests with a broken arm. His touchdown, which came on a deep corner route, was the same play that led to numerous Lansing touchdowns last year.
The Raiders finally got on the board when Ben Kelly scored on a three-yard touchdown run with 2:55 left in the game. Alex Barbuto's extra point made the score 32-7.
Photo Gallery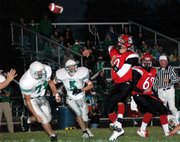 Lansing beats IMAC, improves to 5-1
The Lansing High football team beat Immaculata, 32-7, on Friday night in the Homecoming game. With the victory, LHS improved to 5-1 on the season.
Although the Lions were unable to protect the shutout and didn't score as many points as they'd hoped to, Pekarek said he thought that might be a blessing in surprise. The Lions open district play at 7 p.m. Friday at home against the Basehor-Linwood Bobcats and they know they'll have to play better than they did against the Raiders if they want to beat the Bobcats.
"They know they could have played better, but I guess if we didn't play our very best game tonight, that'd be great if we could play our best game next week," Pekarek said. "We played well enough to win. We played well enough to win by more than a couple touchdowns. But maybe now we can come out and really execute and play well, because we know it's very important to win each game (in district play)."
NOTES
- Playing in his first game of the season since returning from a broken arm, senior Jeff Slater had one carry for one yard and caught a 34-yard touchdown pass. He also had three tackles.
- Junior linebacker Joe Kohl led Lansing with 13 tackles.
- Senior fullback/linebacker Lance Fink had eight tackles and rushed nine times for 38 yards and a touchdown. He also had one catch for a 21-yard touchdown.
- Junior tailback Kyle Grape led the Lions with 14 carries for 63 yards and a touchdown.
- Senior quarterback Matt Warner completed nine of 19 passes for 190 yards and three touchdowns.
- Senior defensive end/wide receiver Ryan Robbins had eight tackles. He also caught four passes for 54 yards and had 1.5 sacks.
- Senior defensive lineman Jason Bowman had seven tackles and was credited with half a sack.
- Sophomore defensive lineman Mycol Bowen had seven tackles and a quarterback sack.
- Senior David Kern had five tackles and an interception.