LHS

tennis eliminated at regionals
Darrow, Gann fall one match short of state berth
Overland Park — When it comes to postseason success, it's all about pairings.
At the Class 5A girls tennis regional on Monday at Indian Creek Racquet Club, Lansing High didn't have the luck of the draw.
Photo Gallery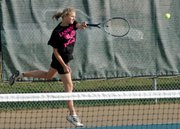 Class 5A regional tennis
The Lansing High girls tennis team was eliminated from postseason play on Monday as it fell in the Class 5A regional tennis tournament at Indian Creek Racquet Club in Overland Park.
In a regional that was stocked with some of the top talent in the state, the Lions didn't quite match up. Singles players Kersten Probst and Heidi Schultz earned the No. 11 and No. 12-seed positions in their bracket, and both lost their first-round matches, 8-0.
In doubles play, seniors Bethanie Hill and Lindsay Parks received the No. 12-seed and dropped an 8-3 decision to Kristen Mitts and Shaina Rivera of St. Thomas Aquinas.
Lansing's lone victory of the day came from seniors Rachel Darrow and Jaclyn Gann.
The sixth-seed doubles pair from LHS won its first-round match against Lauren Gritt and Kelsey Horton of Gardner-Edgerton, 8-1, and advanced to the quarterfinals. Darrow and Gann dropped their next match, 6-0, 6-1, to Lindsay Ketterling and Jessica Plubell of Blue Valley West.
Had Darrow and Gann upended the third-seeded squad from Blue Valley West, they would have advanced to the state tournament.
For more on the regional tennis tournament, pick up the Oct. 13 edition of The Current or visit lansingcurrent.com.