7th grade volleyball goes 12-1
Tough match with Linwood is only loss
The seventh-grade volleyball A team at Lansing Middle School dominated its foes all season long.
Lansing picked up early victories in hard-fought matches against Monticello Trails, Linwood, Perry and Piper. Then they beat Silver Lake, Holton and Perry along the way to placing first at the Perry Invitational. After that, it picked up wins against Lexington Trail, Tonganoxie and Xavier.
Lansing's bid for a perfect season was derailed on Saturday at the Tonganoxie Tournament at Tonganoxie Middle School. After beating Clark (25-22, 15-25, 15-11) it lost its rematch with Linwood (23-25, 23-25). LMS bounced back and closed out the season with a victory, though, as it upended Tonganoxie (25-14, 25-19).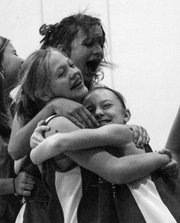 The Lansing A team finished its season with a 12-1 record.
Taylor Williams, Katie Jensen, Sara Slater, Heather Averill, Katie Delich, Elena Hill, Allison Ewing, Sarra Garvey and Alyssa Cole all made steady contributions throughout the season that helped the team be successful. Jill Gwartney was the A team coach.
Lansing's Red and White teams also had solid seasons. The White team won most of its matches, while the Red team dropped a number of close matches throughout the season. Among the opponents the White team defeated were Perry and Lexington Trail.
Ed Fenton coached the Red and White teams.
Kelsi White, Megan Wilcox, Viktoria Virstyuk, Taylor Jones, Brittany Owens, Shelby Stanyan, April Elkins, Marita Meyer, Katie Metcalf, Darian Perry, Alyssa Hamlet, Jordan McDowell, Jessica Wood, Sara Beck, Katlyn Osborn, Samantha Scherer, Courtney Gentil, Jennifer Nye, Emily Scheurer, Stephani Brooks, Nesha Bowman, Cheyenne Rettele and Elizabeth McDowell played on the Red and White teams.
Eighth-grade caps undefeated season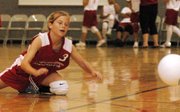 The eighth-grade volleyball A team finished its season undefeated when it won the Tonganoxie Tournament on Saturday.
Lansing beat Clark (25-9, 25-7), Linwood (25-15, 25-14) and Tonganoxie (25-13, 25-20) and finished its season with an unblemished 13-0 record.
Team members are Abbey Lozenski, Madison Brandt, Lauren Jaqua, Breanne Sanders, Meghan Reilly, Kristen Gould, Lisa Angelo, Rachel Milnark and Tayler Dumlao. They are coached by Chris Elliott.