Fire District No. 1 opens new station to public
The residents of High Prairie Township have a new neighbor.
Leavenworth County Fire District No.1 celebrated the opening of its new fire station west of Lansing at 15115 County Road 29 with an open house and barbecue on Saturday afternoon. Fire Chief Rick Huhn said about 60 people who live nearby toured the facility and met firefighters.
The station has been operational since Aug. 1, Huhn said, and should reduce response time for fires to the neighborhood. Before the new station was built, the fastest route to the area for District 1 firefighters was via Eisenhower Road, a 20-minute trip from the Lansing station at 111 E. Kansas Ave., Huhn said. The department responded to four or five calls in the High Prairie Township area while volunteers were building the station.
Construction on the new station began in January 2004 with 1,472 hours of volunteer labor by the district's 26 firefighters. About $35,000 worth of donated labor from the Lansing Correctional Facility went into the station's concrete driveway and parking lot, Huhn said.
Huhn said the concrete probably wouldn't have been laid if not for the prison's donation.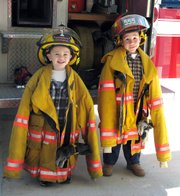 The total out of-pocket expense to the fire district patrons for the station was $206,634, he said.
The station is not manned - it has no phones, but does have various communications cables laid for possible hookup in the future - and relies on two on-call volunteers, Bob Jeselnik and Steve Lacey, both of whom live in the area.
Huhn said the station "desperately needs more volunteers," which Lacey echoed.
Lacey, who lives half a mile south of the station, works as a printer on the night shift at Hallmark Cards in Leavenworth and is on call for the department during the day. Lacey said he signed up a year ago when he saw the sign outside the station as construction first began.
Lacey said his neighbor's house burned "down to the ground" three or four years ago, and that he feels safer having the fire station in his neighborhood. Lacey said fire insurance for his home has dropped 20 percent since the station was completed.
To become certified, Lacey completed two weekly four-hour firefighting training courses that lasted about six months, a hazardous materials course, and then took a certification test at the University of Kansas.
Lynn Lanaman, whose family lives just up the road from the station on Stranger Road, said she, too, felt safer knowing a fire station was nearby.