Lansing tennis eliminated at 5A regional tournament
Overland Park — When Rachel Darrow and Jaclyn Gann walked off the tennis court after their final match Monday morning at Indian Creek Racquet Club, both were smiling.
The Lansing High seniors hadn't qualified for state. Instead, they came one victory short of earning a berth in the Class 5A state tournament, but they were proud nonetheless. After all, they'd won one match that day.
Darrow and Gann pounded Lauren Griff and Kelsey Horton of Gardner-Edgerton, 8-1, in their first-round match before falling to the regional runner-up pair from Blue Valley West, Lindsay Ketterling and Jessica Plubell, 6-0, 6-1.
Their first-round victory was the lone win of the day for the LHS tennis team at the regional tournament, but it was special for the seniors because it meant they'd had a little bit of postseason success.
"I think it was important to get past the first round because usually we're one-and-done," Darrow said.
Photo Gallery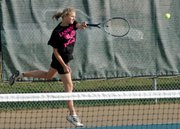 Class 5A regional tennis
The Lansing High girls tennis team was eliminated from postseason play on Monday as it fell in the Class 5A regional tennis tournament at Indian Creek Racquet Club in Overland Park.
Lansing was stuck in arguably the toughest regional in the state, one that featured private schools Bishop Miege and St. Thomas Aquinas, as well as tennis powerhouse Blue Valley West. The result was an early exit.
Singles players Kersten Probst and Heidi Schultz both lost their first-round matches by 8-0 scores. The doubles duo of Bethanie Hill and Lindsay Parks also fell in the first round, 8-3, to a team from Aquinas.
For Darrow and Gann, the small taste of postseason success meant a lot.
"The experience has been great this year," Gann said. "Coach (Rachel) Elkins made us a lot more improved than last year. Last year we didn't do so well at regionals. We were out in the first round."
They were used to losing - and losing a lot - during the first three years of their tennis careers, they said. With first-year coach Elkins' guidance this year, they turned the tables on their opponents and posted a 4-1 record together.
"As soon as I found Jaclyn as a partner, we started winning a lot of matches," Darrow said. "We had a winning record instead of a losing record, which is a lot different than what we've usually experienced."
Although nobody advanced to state, the 2005 season was one of the most successful for Lansing girls tennis in recent memory. The Lions placed in the top four at every tournament this season and they won dozens of medals. Elkins said she expects to build on those successes next year.
"I think just having some regional success, coupled with the season, shows the team as a whole that you can go a step further," Elkins said.