League champs control sub-state destiny
Lansing volleyball could earn top seed again
The stars may be aligning again in the Lansing High volleyball team's favor.
LHS has won 16 matches in a row since dropping its Kaw Valley League opener to Santa Fe Trail on Sept. 20. On Tuesday night at Basehor-Linwood High School, Lansing (23-3 overall, 9-1 KVL) picked up the last two of those victories as it upended Perry-Lecompton, 25-9, 25-9, and Basehor, 25-15, 25-18.
Also Tuesday night, Santa Fe Trail lost to Bishop Ward. That means the Lions successfully defended their KVL crown.
The Lions have improved each time out, but LHS coach Julie Slater said her squad hasn't peaked yet.
"I've had teams that have peaked early and then (fizzled out), but this team I think is getting better and better," Slater said. "They're just playing more consistent, making better decisions and playing better as a team."
Adding to the Lions' good fortune is the fact that their recent hot streak - paired with some timely losses by potential sub-state opponents - has put them in position to control their own destiny in regards to attaining the No. 1 seed in postseason play.
Last year Lansing was able to avoid playing Mill Valley or traditional power Shawnee Heights during sub-state play because LHS earned the No. 1-seed. Heights picked up its seventh loss of the year Tuesday night, giving Lansing a good shot and earning the top seed again this year. If that happens, another berth in the Class 5A state tournament could follow.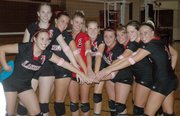 "I think we'll go," senior Dayna Norwood said. "But it's very important that we keep winning. If we have a good record for sub-state, then we'll be on the opposite side of the bracket from Shawnee Heights."
In order to earn the No. 1 seed, Lansing only can afford to lose two - maybe three - matches in the next week. There are plenty of difficult matches on the slate during that time. LHS will play at 9 a.m. Saturday at the Anderson County-Garnett Tournament in a field that is expected to contain four or five 2004 state qualifiers from Class 3A and 4A.
"We've got to step up and play Saturday at Garnett and hopefully win that tournament," senior Lauren Griffen said. "That will help put our record up and hopefully help us ensure that we get the one-seed just like last year."
The final exam of the regular season will come on Tuesday, though, when Lansing plays in the Mill Valley Quadrangular against Mill Valley, Olathe South and St. Thomas Aquinas. O-South is the No. 2-ranked team in Class 6A. Aquinas is ranked No. 1 in 5A.
Earlier in the season the Lions were antsy about playing the Falcons and the Saints, but not anymore.
"I'm starting to look forward to it," Slater said. "We're playing good and we need that stiff competition going into our sub-state."
Griffen agreed, and she said the Lions are confident they can play well enough to come through the tough stretch unscathed.
"We're going to play great teams, and we know that. It'll be really good for us because we'll have to step it up to compete with them, and we know we can compete with them," she said. "We all need to play our best and be where we need to be (on the court). It's going to be great having that good competition going into sub-state so hopefully we can end on a peak."
JV SEASON ENDS
The junior varsity volleyball team ended its season Tuesday night with a pair of victories.
Lansing beat Perry-Lecompton, 25-23, 23-25, 15-11, and then upended Basehor-Linwood, 25-13, 25-18, to close out its season on a high note.
The Lions finished the season with a 21-8-2 record and lost just once in their final 10 matches.
Team members are Katie Nietzke, Morgan Chiles, Sara Logan, Kristen Jensen, Katie Smith, Brittney Lang, Elizabeth Cristiano, Amanda Darrow and Erin Griffen. They are coached by Amy Turner.
FRESHMEN DOMINATE EUDORA TOURNEY
The freshman volleyball team continued its strong season Saturday when it placed first at the Eudora Tournament.
Lansing cruised past Wellsville (25-15, 25-14), Louisburg (25-20, 25-7) and Baldwin (25-16, 25-22) in pool play before holding off Eudora (25-17, 11-25, 25-11) in the finals. With the victories, the Lions upped their record to 25-8-1.
Team members are Dee Dee Clifford, Megan Grimm, Natalie Loreti, Courtney Peters, Andrea Shanks, Keasla Hundley, Kenzi Smith, Sam Pendleton, Heather Kermashek, Brooke Didde and Katie Cristiano. They are coached by Rhonda Lang.