Title defense begins
Basehor-Linwood is first test in quest for district crown
Three overtimes.
That's how many extra periods the Lansing High football team needed to beat Basehor-Linwood last year during the first game of district play.
After three overtimes' worth of sweat, guts and drama, the Lions finally pulled out a 37-34 victory. It served as the spark for their run to a district title and eventual trip to the Class 4A regional playoffs.
This year's matchup again will mark the first game of district play. This time around, the stakes are even higher because LHS has a title to defend. Kickoff is at 7 p.m. Friday at Frank Graham Field.
"It was a great win for us last year," Lansing coach Bill Pekarek said. "You already hear our players talking about how we've got to defend a district championship. These guys are going to be gunning for them, so we've got to come out and play hard."
The Lions (5-1 overall, 4-1 Kaw Valley League) came out slow during the first half of last year's game. As a result, they trailed 21-7 early in the second half before erasing a two-touchdown deficit in the fourth quarter to force the trio of overtimes.
The Lions want to make sure they're focused from the beginning this year.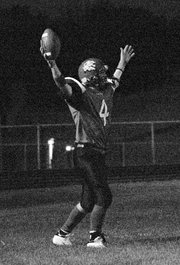 "Last year we came in, we were on a big winning streak, we were feeling really good about ourselves, and Basehor ended up coming out and smacking us in the mouth," said Chris Clemmons, senior center. "We've got to realize that we've got to strap it down and play smash-mouth football every play."
Although Lansing has played smash-mouth football for the better part of the past four weeks - all victories - there have been a few hiccups along the way. There was the fourth quarter against Spring Hill when a 40-point lead was trimmed in half. Then there were stretches during last Friday's 32-7 victory against Immaculata in which LHS seemed to lack its edge.
"They know they could have played better," Pekarek said, "but I guess if we didn't play our very best game tonight, that'd be great if we could play our best game (against Basehor)."
If the Lions want to beat the Bobcats (2-4, 2-3), then they'll need to perform well with both the passing and running games, and the defense will have to continue to play strong. All of those areas appear to be coming together. Senior fullback Lance Fink has two 100-plus-yard rushing games in the last four outings. Senior quarterback Matt Warner has had back-to-back strong performances, including a 190-yard passing effort against IMAC. Meanwhile, the defense has allowed just three touchdowns in the last three weeks.
Plus, the Lions have been strengthened by the return of emotional leader Jeff Slater, whose 34-yard touchdown reception capped the Homecoming win against IMAC.
If the Lions click in all phases of the game, then it might be just a matter of time until they win their second district title in two years.
"We need to get all three wins (in district play) to definitely get in the playoffs," senior defensive end Ryan Robbins said. "Everybody's out to get us because we were district champions last year and we beat all three of them. So it's going to be tough, but we should take care of business."