Bank to buy Towne Center lot
Council splits 5-3 on sale of city-owned land
Now that the Lansing City Council has given the go-ahead to sell First National Bank of Leavenworth the city-owned lot in Towne Center, Rick Schneider says the bank will become even more involved in the Lansing community.
"When a bank comes into town, the first people who get hit up for major donations and contributions are banks. We feel that's our responsibility : We're going to be more involved in the schools, more involved in the community than we already are. So we welcome that opportunity," Schneider, first vice president at the bank, told council members last week.
His comments came before the council, in a 5-3 vote Thursday, directed Mayor Kenneth Bernard to complete the sale of a 1.8-acre site on the southwest corner of West Mary and Main streets. The bank has offered $550,000 for the site.
Council members Billy Blackwell, Dee Hininger and Andi Pawlowski voted against the sale. They cited the council's stated goal of landing a retailer or restaurant for the site to generate sales tax revenue for the city.
Photo Gallery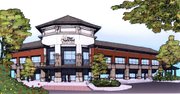 Bank unveils plans for Lansing
First National Bank of Leavenworth and the city of Lansing are completing negotiations for the sale of city-owned land at the southeast corner of West Mary and Main streets. The bank wants to open a full-service, 14,000-square-foot bank on the land. The Lansing City Council approved the sale Thursday, Oct. 6.
"Every single taxpayer I've talked to has said, 'Hold off. Wait for something that's going to generate income,'" Pawlowski said. "It's nothing against the bank : I think you should build your bank in Lansing."
Council member Harland Russell didn't buy the argument that putting a bank on the site wouldn't lead to increased sales tax revenue for city coffers.
"They may not directly generate sales tax, but (they're) : providing the money for investment in the community," Russell said. "That money is going to be invested in our community; it's going to generate sales tax for us."
The city purchased the site for $160,000 in 1999, when Towne Center was in its formative stages. Since then, the city has invested about $2 million, including street and sewer improvements, in the 32-acre Town Center, which runs along the west side of Main Street between West Mary Street and 4-H Road. The area, most of which is owned privately, is envisioned as a downtown Lansing with retail stores and restaurants.
But for a variety of reasons, no tenants have been landed for Towne Center, despite vigorous marketing efforts by the city.
Jerry Reilly, chairman and chief executive officer of Coldwell Banker Reilly and Sons Realtors and a member of First National's board of directors, told council members not to discount the offer in hand.
"Don't forget, when you say you are not generating any revenue, you are receiving $550,000 on this piece of property," Reilly said. "That's 25 percent of your investment that you've had on the books for four years. I must tell you as a taxpayer myself out here, I'm not pleased about that. I know you're not pleased about that."
Reilly, in laying out the case to sell the land to the bank, said he understood the council's desire to land a retailer or restaurant for the site.
"I know your dream is to have a commercial venture on that corner," Reilly said. "Don't forget, ladies and gentlemen, that project has been there three years, and you've had a lot of empty promises. You've invested $2 million of the taxpayers' money in that project. You could be sitting here two years from today, hoping and wishing. You have a customer today willing to invest $2.5 million in your city."
Reilly said construction of the proposed 14,000-square-foot bank building should spur momentum toward additional development at Towne Center.
"Success leads to success," he said.
Council member Robert Ulin reminded his colleagues "a bird in the hand is better than two in the bush."
"I, too, would like to have retail, very aggressive retail : but realistically, in three years we have not been able to make that happen. And I know we've tried very hard," Ulin said. "For one reason or another it's just not happening."
"We owe the taxpayers something back on their investment over there : and we have an opportunity to do that," Blackwell said. "If we give that away, we have no opportunity to do that."
Ulin, however, said the $2 million investment in the building, combined with the $550,000 purchase price for the land, showed the bank was serious about the future of Towne Center and Lansing.
"I also know with that kind of an investment in our town, they're as interested in growth as we are," Ulin said.