Health fair delivers care, fun to 300
Health care does not have to be boring or scary, the 300 participants at the third annual Women's Health Fair discovered.
The fair was Sunday afternoon at Associates in Family Health Care, 712 First Terrace, and featured more than 40 vendors. Approximately 300 local women attended the event, which was designed to show women just how entertaining health care can be.
Geri Mance waited in line to take advantage of the cholesterol screening. She said came to the fair because she had never been before and wanted to visit the Vein Center booth.
"Another reason I came is you just have so much fun," she said while laughing with the other women waiting in line for the screening.
Participants received pink gift bags with coupons and samples, complimentary massages, spa treatments, candy, balloons and flowers. Women could also mingle with local celebrities and eat a variety of food dipped from a chocolate fountain.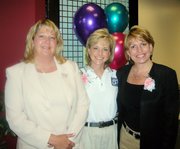 While the women were enjoying the fair's other activities, they could receive free blood pressure, blood sugar, cholesterol, electrocardiogram and osteoporosis screenings on the main level of the health center. Normally costly open MRI screenings were offered free during the fair on the lower level, Corpstein said.
The health fair began as a community service for women and has grown larger each year, Corpstein said. In addition to the free health screenings, the fair offers women information on health issues.
KCTV 5 chief meteorologist Katie Horner, KCTV 5 news anchor Carolyn Long, Wild Oats recording artist Joey and actress and Dodie Brown, founder of the New Theatre Guild, greeted the women as they entered, signed autographs and handed out pink gift bags.
October is Breast Cancer Awareness Month, and this was reflected in the content of the booths and the clinic's pink decorations. Several booths had information on breast, colon or ovarian cancer.
"One out of every eight women will get breast cancer in their lifetime and it seems that the women (who are diagnosed) are getting younger and younger," said Dr. Catherine Grote.
Grote is a physician at the clinic and is herself a survivor of breast and colon cancer. Being a former cancer patient and a doctor allows Grote a unique perspective.
"It gives you certainly more compassion for those who come after us," Grote said, referring to a nurse at the clinic who is battling ovarian cancer.
Inside the fair was the biggest selection of medical specialists in the area, according to Diana Corpstein, fair co-coordinator and nurse practitioner. Specialists included the Vein Center of Kansas City, plastic surgeons, podiatrists and a lap-band weight loss surgery specialist.
"This clinic draws the best," Corpstein said.
Grace Polley came to the fair for health and well being, to see the arts and crafts and for the "freebies."
Her friend Mary Benson also said, "She wants to make sure she's healthy."
Wendy Sachen and Kim Bates came for the complimentary massages and also had EKG, blood pressure and blood sugar screenings and took advantage of the refreshments.
"There's a lot of chocolate - it's definitely for women," Sachen said.