University series on
WWI

films resumes
Graduate student Hollie Becker gets to draw on both of her undergraduate degrees - and experiences from her days at Lansing High School - in helping present a film and discussion series at University of Saint Mary in Leavenworth.
Becker, who is studying for a master's degree in clinical psychology, earned undergraduate degrees at Saint Mary in theater and history. She is project coordinator for "The World War I Years: America Becomes a World Power," an ongoing film and discussion series taking place at USM through most of this academic year.
"I think the theater has helped me, especially in things like this where I have to present to the public. It never hurts you to do that," said Becker, who noted her interest in theater was formed during her days in Drama Club at LHS. "And the history, that's fit in really well with doing 'The World War I Years.' That's kind of right up my alley."
DePaul Library at University of Saint Mary is one of 50 libraries across the nation, and the only one in Kansas, to present the series. The program revolves around six documentaries on World War I. In tandem with the film screenings, book clubs dedicated to World War I readings and lectures related to the war years also are being offered.
The series kicked off last month with the film "The Road to War," which was attended by nearly 200 people. The second film in the series, "Over There," will be presented at 7 p.m. today, Oct. 13, in the university's Mabee Auditorium. The series ends April 20.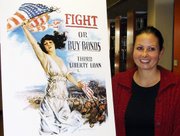 Becker said she hoped the momentum created by the first film and discussion could be sustained.
"People stayed for the discussion and had great questions and comments and insights into what they saw and how they could relate that to today," said Becker, who added that she was amazed by the response to the series, which is free to the public.
Becker said the series wasn't just about the war.
"We aren't just talking about military technology," she said. "It's our culture and our values, nationalism, so much more than just the actual warfare. I think it has something for, really, everyone."
Becker said one message she heard after the initial film and in book discussions and lectures was how little attention has been paid to World War I in many schools' history lessons.
"A lot of people in our first book discussion had mentioned they had grown up just after World War I was over. It was so fresh they didn't really talk about it in history class, so they sort of missed the broad scope of what happened in that period of American history," she said. "Being my age, I felt that World War I was somewhat glossed over in my education because World War II is what people remember."
Becker said each of the films in the series was an award winner, but her favorite part of the series comes in the discussions after each screening.
"Personally, I think that's the best part of the evening because it's really interesting to have so many people from all walks of life and all sorts of experiences and opinions and values and backgrounds and to hear what they thought of the film and the insights they have," she said.
Remaining events
There are five films remaining in the University of Saint Mary film-discussion series "The World War I Years: America Becomes a World Power."
The series is free and open to the public. Seating at Mabee Auditorium, where the films are being screened, is limited, so people interested in attending are asked to call 758-6306 to make reservations.
All films are at 7 p.m. and remaining show dates are:
¢ Oct. 13: " Over There"
¢ Nov. 17: "Modern War"
¢ Feb. 16: "The American People in Wartime"
¢ March 23: "Peacemaking"
¢ April 20: "After the War: The Turbulent Years"
In addition to the films, there are a number of lectures and book club discussions scheduled in the series.
Book Club (At Leavenworth Public Library, 417 Spruce St.)
¢ 7 p.m. Nov. 3, "All Quiet on the Western Front," by Erich Maria Remarque, led by Penelope Lonergan.
¢ 11 a.m. Feb. 9, "The Great War and Modern Memory, by Paul Fussell, led by Susan Rieke
¢ 7 p.m. March 20, "A Farewell to Arms," by Ernest Hemingway, led by Steve Paul
¢ 11 a.m. April 13, "A Peace to End All Peace: The Fall of the Ottoman Empire and the Creation of the Modern Middle East," by David Fromkin, led by Wasiq Khan.
Lectures
¢ 11:15 a.m. Oct. 15 at Mead Dining Room at USM, "Psychology and the Great War," by Lynette Sparkman-Barnes, sponsored by Delta Epsilon Sigma
¢ 7 p.m. Oct 27, Mabee Auditorium, "Pale Horse, Pale Rider: A Story about the Worldwide Flu Pandemic of 1918," by David Reynolds, sponsored by Delta Epsilon Sigma
¢ 7 p.m. Jan. 30, Xavier Studios at USM, "The DADA Art Movement: Can Art Change the World?" by Susan Nelson, sponsored by Delta Epsilon Sigma
¢ 7 p.m. Feb. 21, Walnut Room at USM, "Literature and War: Poets and World War I," by Sister Susan Rieke and Mike Novak, sponsored by Delta Epsilon Sigma
Additional lectures sponsored by USM's Global Studies Institute as part of the series are scheduled for 7 p.m. Nov. 10, Jan. 26, March 16 in the Social Room at USM.