Band competes in its 'playoffs'
If there were playoffs for bands, the Lansing High School marching band would have held its own among the state's best, band director Luke Johnson said.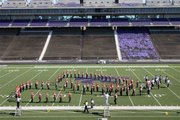 The Marching Lions competed twice last week: on Wednesday at the seventh annual Baker University Marching Band Festival in Baldwin City; and again Saturday at the 2005 Central States Marching Festival at Kansas State University in Manhattan.
At Baker, the Lions received a 1 rating - one of only four bands to receive the top ranking. In Manhattan, LHS scored a 2 rating overall.
"The kids were awesome," Johnson said about the LHS band's performances at the festivals. "They played very well and they represented our school and community very well."
The festivals at Baker and KSU are the only two competitions the 93-member band will attend this year, said Johnson, who is in his first year as director.
For more on the competitions, see Thursday's Current.