Lansing pounds Perry, earns share of
KVL

title
Thackston, Dick each net three goals in victory
It would have been easy for the Lansing High boys soccer team to take Perry-Lecompton lightly Tuesday night.
After all, the Kaws hadn't won a game all year and the Lions had just two losses.
The Lions (14-2) had a share of the Kaw Valley League championship at stake, though, so there was no letdown in sight.
Lansing 10, Perry 0.
LHS dominated the game from the opening kick, but it struggled to find the net during the first 13 minutes as Alex Brettmann, Gabe Garza, Shawn Jung, Brad Mock, Ty Thackston and Andy Dick peppered the goal with shots. Finally, Thackston put LHS on the board in the 14th minute when he took a pass from Mock and beat the goalkeeper one-on-one. Nate Markovetz scored just two minutes later, and Dick added a goal 47 seconds after that to push the lead to 3-0. Dick added two more goals in the half, and Thackston and Mock each added goals late in the half. That gave the Lions a 7-0 lead at intermission.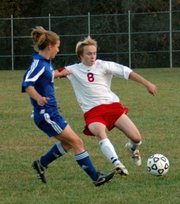 Perry may have lacked depth and experience, but it didn't lack heart in the second half. The Kaws didn't play like a defeated team during the second half as they kept the Lions off the board for the first 14 minutes. Finally, Nolan Bohannon slipped a pass to Thackston who buried a shot to the far post for an 8-0 lead. Bohannon added a goal four minutes later to push the lead to 9-0, but the Kaws toughened up again and prevented the Lions from scoring again until the 76th minute when Kyle Buehler scored after Brandon Rimmey's shot deflected off the goalkeeper.
With the victory, LHS earned a share of the league title with Mill Valley and Bonner Springs.
The Lions's next game will come Tuesday when regional play begins. They will find out who their first-round foe will be when the Kansas State High School Activities Association holds its playoff seeding meeting on Saturday.
For more on the Lions' league title, pick up the Oct. 20 edition of The Current.
JV ENDS YEAR 15-1
The Lansing High junior varsity boys soccer team ended its near-perfect season in perfect fashion Tuesday night as it beat Perry-Lecompton, 1-0.
The Lions (15-1) used a goal by Michael McMurphy midway through the first half to take the lead. Then the defense did the rest.
The Lions ended the year on an eight-game winning streak. They shut out 13 of their opponents this season and won their last three games all by 1-0 scores. They allowed just six goals all year and scored 36 goals.