Dinosaur takes shape at
LMS
Middle School art students creating paper-mache triceratops
Deep inside Lansing Middle School, art students are raising a dinosaur. Though only about a month old, it has already grown to 5 feet tall and 9.5 feet long.
The dinosaur - a triceratops, to be specific - is fully grown but not fully developed. Right now, it just has gray, papery skin, but it should soon acquire a new layer and a new color. What color it will be is anyone's guess.
"I've heard suggestions for fluorescent pink, but I doubt if that'll go," said Andrea Wecker, LMS art teacher.
Wecker's art students are creating the dinosaur out of papier-mâche in preparation for the school's annual Fine Arts Fair, scheduled for May 10. The fair has a prehistoric jungle theme this year, Wecker said. Her students last year chose the theme, and her current students will get to choose what color to paint the dinosaur.
Though the fair is months away, Wecker said she wanted to give her first-semester students the opportunity to work on the decorations; in the past, she said, only students taking art during the second semester created the fair decor. At LMS, art classes are 12 weeks long for sixth-graders and one semester for seventh- and eighth-graders.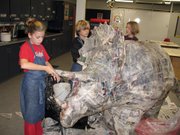 Wecker said the triceratops' frame was made from cardboard boxes that she put together. The students used balls of newspapers and masking tape to round out the shape, then covered the skeleton with newspaper and wallpaper glue.
The students will continue to layer the dinosaur with newspaper and glue until its skin is hard, Wecker said.
Once that step is complete, the students will cover the reptile with paper towels to mask the newsprint and finally paint the dinosaur.
Some students who worked on the dinosaur last week said it would look realistic with shades of grey and black or reddish brown and purple. However, once Wecker mentioned hot pink, the idea caught on - students suggested painting the dinosaur pink and purple and blue with a variety of stripes and polka dots.
Sixth-, seventh- and eighth-graders have been working on the triceratops, Wecker said, but the sixth-grade students have done the most.
Working on the dinosaur is an extra project, so students must have a B average or above to take part in it, and they can only participate when they have finished their graded projects, Wecker said.
Given the students' enthusiasm for the work, Wecker said she hoped to make four or five dinosaurs to decorate the LMS commons at the art fair, including a flying dinosaur.
But where do you keep a 9-foot dinosaur for seven months? Wecker said she hoped the triceratops would balance on its head and front legs in a storage area near the back of her classroom. But if another home needs to be found for triceratops, at least it won't have to go on a diet.
"I did measure to make sure it would go out the door," Wecker said.