Lansing dominates Tonganoxie in final game, 32-8
The Lansing Middle School seventh grade football team completed its season undefeated when it picked up a 32-8 victory over Tonganoxie on Tuesday at LMS.
The Lions (7-0) jumped on top early when running back Nathan Wessel found the end zone. The two-point conversion gave them an 8-0 lead. Wessel then scored on a 16-yard run with 2:23 left in the second quarter. Quarterback Tyler Terron ran the ball in for the two-point conversion, giving LMS a 16-0 lead.
Dillon Scanlon added an 8-yard touchdown run with 52 seconds left in the half. Wessel ran for the conversion, giving Lansing a 24-0 lead at intermission.
The Lions scored their final touchdown early in the third quarter when Scanlon rushed for a 35-yard touchdown. Spencer Blew ran for the two-point conversion.
Photo Gallery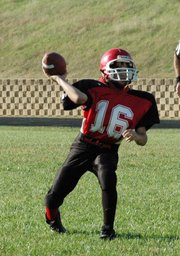 Seventh-grade football team finishes undefeated
The Lansing Middle School seventh-grade football team finished its season with a perfect 7-0 record. LMS ended its year by beating Tonganoxie, 32-8, on Tuesday.
Lansing maintained the shutout until 1:26 remained in the game. That's when Tonganoxie's Dylan Scates broke free for a 52-yard touchdown run. The conversion was good, making it 32-8.
Team members are Ethan Johnson, Ryan O'Donnell, Kaleb McQuillan, Matthias Miller, Parker Gibson, Ryan Curran, Sean Tweet, Tyler Baughman, Lorenzo Jenkins, Brennen Holcomb, Dakota Fox, Jake Bayles, Patrick Horton, Tyler Hoyt, Lucas Knott, Nick Goss, Trent Belcher, Cole Mohan, Nick Pfrimmer, Kris Mohan, Ethan Williams, Cory Andrews, Trevor Nobbs, John Bagby, Alex Sexton, Zachery Bradley, Kevin Keller, Matt Newby, Zach Hammer, Blew, Scanlon, Terron and Wessel. They are coached by Doug Faught, Don Allen, George Kersten and Lee Matzeder.