League Champions
Lions expect to be one of top seeds when playoff brackets are announced
There was no over-the-top celebration Tuesday night after the Lansing High boys soccer team beat Perry-Lecompton to lock up a share of the Kaw Valley League championship.
After all, the Lions expected to win. Their 10-0 victory wasn't surprising.
"We've got a good team," LHS coach Randy Brown said after the game, explaining how his players took charge early and dominated from start to finish.
Brown's players expected to be this good since the first day of practice. That's why they didn't go wild after the victory that assured them a piece of the title with Mill Valley and Bonner Springs.
"It's very special," senior captain Theo Daniels said. "We thought we were going to do this from the start of the season. From freshman year when we got here, we've been building up (to this) for four years."
Photo Gallery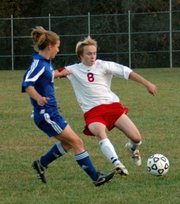 LHS shuts out Perry, earns share of KVL crown
The Lansing High boys soccer team shut out Perry-Lecompton, 10-0, on Tuesday night at LHS. In doing so, the Lions earned a share of the Kaw Valley League title.
The buildup included bouncing back from an 8-9 season last year. The Lions (14-2) didn't just surpass the .500 mark this year. They nearly doubled the total number of wins.
"Lansing's coming back and we're showing that we're a good team," senior forward Ty Thackston said. "Coming back and getting part of the league title feels pretty good. It's a good way to go into regionals."
The Class 5A regional tournament is the next step for the Lions. They'll learn their postseason fate at 9:30 a.m. Saturday when Brown attends the seeding meeting at Olathe East. The Lions will play in one of three Northeast Kansas regionals.
Other teams in those regionals will be St. Thomas Aquinas, Bishop Miege, Blue Valley West, Mill Valley, Harmon, Turner, Paola, Pittsburg, Wyandotte, Washington and Schlagle.
Aquinas (14-2) is ranked No. 1 in the state, and Daniels said he didn't want to play the Saints early.
"We don't really want to get Aquinas or any of the other big teams," he said, "But we're going to get them. We're going to have to face them."
Brown said the Lions likely would get the No. 2 seed in the regional, meaning they would stay away from Aquinas until at least the state quarterfinals.
Other top teams in the regional will be Bishop Miege (10-4-1) and Mill Valley (9-4). At 8-2-1, Harmon could be a wild card in the bracket. So could perennial power Blue Valley West which, at 7-8, will be seeded in the middle of the pack.