Playoff berth on line for
LHS
Lansing High hasn't faced many opponents that have thrown the ball this season.
That could be a problem when Lansing travels to Piper at 7 p.m. Friday for a Class 4A football district contest.
The Pirates (2-5 overall, 2-4 Kaw Valley League) are known for their aerial attack, and Lions coach Bill Pekarek said he expects nothing to be different this time around.
"They're a team that wants to throw the football a lot," Pekarek said. "We're going to need to be able to play good pass defense and put a little pressure on the quarterback."
Pass defense was something Lansing didn't do particularly well during its 20-3 victory against Basehor-Linwood on Friday night in its district opener. Basehor only completed four of 12 passes, but it had about a half-dozen drops that were open.
"We left some quick routes open and they hit them," Pekarek said. "We didn't work on our pass defense last week. Maybe that's part of it. But we're going to make sure we work on our pass defense this week."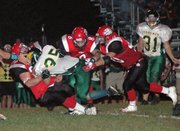 Something the Lions (6-1, 5-1) did do well was pressure the quarterback. Senior defensive end Ryan Robbins had 4.5 sacks and senior Logan Ryan had a half-sack.
A victory against Piper would be huge for Lansing's postseason aspirations. The Lions won their district opener, so a victory Friday would assure them of a trip to bidistrict action for the second year in a row. A victory the following Thursday against Bishop Ward would give Lansing home-field advantage for the bidistrict game.