Seniors Eustice, Mayes ready to chase final trip to state
For four years Erin Eustice and Ashley Mayes have been mainstays on the Lansing High varsity cross country team.
At 3 p.m. Saturday they will try to extend their senior season by one more week when they compete at the Class 5A regional meet at Shawnee North Community Center in Topeka. The boys' race will begin at 3:30 p.m.
LHS coach Errol Logue said he would like to see both Eustice and Mayes qualify for state, but he said it will be tough for them to do so because the regional field will be tough.
"It would be great, but they're going to have to run better than they've run all year," Logue said. "It's going to be tougher this year than last year."
Logue said Topeka Seaman, Ottawa, Paola and Shawnee Heights all had strong teams. In addition, Salina Central, Salina South, Highland Park and Topeka West will compete.
Both seniors have shown steady improvement during the past three weeks as they've notched multiple top-10 finishes. Both also became four-time Kaw Valley League medalists on Thursday when Eustice placed 12th and Mayes finished 13th at the league meet.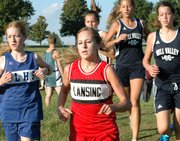 Mayes said she knows the competition will be stiff, but she said she is confident she can earn a third trip to state in four years.
"I really, really want to get to state," she said. "I didn't make it last year and it was frustrating for me. I was happy for the girls who did make it, but it was a wakeup call for me that I needed to get even more serious about it and push myself harder. I've done that this year."
Eustice also is a two-time state qualifier. She said she isn't worried about the tougher competition this year.
"You just have to give it your all and you have nothing to worry about," she said. "That's what it's all about: Ignoring the pain and giving it your all."
For the Lansing boys, sophomore Griffin Davis is the most likely candidate to earn a state berth. He ran a strong race at the league meet and placed sixth in a personal-best time of 18:44. He said he was pleased with his performance and said it gave him confidence that he could make it to state.
"A few weeks ago I was pretty sure that I wouldn't (make it to state)," he said. "I guess there's a possibility now."