Keen eye for a livelihood
Kyle Kelly knew what he wanted to do for a career at an age when many children couldn't define the job. He wanted to be an optometrist.
Kelly's first pair of glasses was prescribed for him when he was in fourth grade.
"I started making trips to the eye doctor and got interested in it as a kid needing eyeglasses," he said.
"It's been a great profession, being able to help people take care of people," Kelly said.
He said the best part of the job is "the chance to see a lot of different people, and at the same time take care of eye problems, and also to see and get to know them."
Wearing glasses no longer carries the stigma for young children that it used to, Kelly said, when corrective lenses were seen by many youngsters as a badge of geekiness.
"The styles they have these days, I see kids wanting to wear them who don't even need them," Kelly said.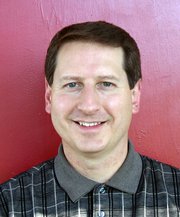 In addition to his day job, Kelly keeps busy as the president of the 2-year-old Lansing Education Foundation Fund. The foundation is dedicated to creating "more of a collaboration between teachers, parents and businesses," he said.
The foundation's work, he said, is important, Kelly said, especially with talk about cuts to public education funding.
Name: Kyle Kelly
Occupation: Optometrist
Graduate of: Kansas State University, bachelor's in physical sciences; medical degree from Pacific University College of Optometry
Family: wife, Vickie; son, Javen; daughters, Shancy, Kari.
How long have you lived in Lansing and what brought you here? I have lived in Lansing 14 years. In 1991, I moved here and joined my business partner, Dr. Mark Norris, in forming Drs. Norris and Kelly, Optometrists, in Leavenworth.
What do you like most about Lansing? Great people, great schools, great area!
What do you do for fun? I like to exercise - bike, run, walk and lift weights. I enjoy watching K-State football and basketball.
What would surprise people about you? I only had 14 students in my high school graduating class. I grew up in Glasco, a small town of about 600 in north central Kansas.
What's the best advice you ever received? "Always try to do your best, whether it be school, work or play," from my mother.
What organizations or clubs do you belong to? Lansing Educational Foundation Fund, Lansing Booster Club, Leavenworth Kiwanis Club, Leavenworth Parks and Recreation Foundation, and Leavenworth First United Methodist Church. Also, several professional optometric organizations.