Megan Kennedy and Kenneth Jordan Jr. were married June 11, 2005, at Soldier's Chapel in Big Sky, Mont., with the Rev. Ronald Johnstad officiating.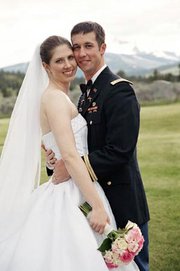 The bride is the daughter of Steve and Connie Arnold, of Lancaster, Calif. The groom is the son of Ken and Pam Jordan, of Lansing.
Abbey Kennedy was the matron of honor. Erica Allen, niece of the groom, was bridesmaid. Nik Brisow was the best man. Groomsmen were Garrett Fardelmann, Dirck Hoagland and Chuck Daze. Ushers were Jeff Eisenbeis and Danny Nickel. Beth Schukman greeted wedding guests.
A reception followed the wedding ceremony at 320 Ranch in Big Sky.
Members of the wedding party on the groom's side, including Ms. Schukman, made the trek from Lansing to Montana in a converted school bus named the "Cap'n Chippy's Revenge."
Both the bride and groom are graduates of the U.S. Military Academy and are 1st lieutenants in the Army. The bride is currently rear detachment commander of the 68th Transportation Company in Mannheim, Germany, and the groom is the mortar platoon leader in the 2nd Battalion, 6th Infantry, 1st Armored Division in Baumholder, Germany.
After a wedding trip to Italy, the newlyweds are at home in Landstuhl, Germany.