LHS

band shines at

KSU

, Baker marching festivals
If there were playoffs for bands, the Lansing High School marching band would have held its own among the state's best, director Luke Johnson said.
The Marching Lions competed twice last week: on Wednesday at the seventh annual Baker University Marching Band Festival in Baldwin City, and on Saturday at the 2005 Central States Marching Festival at Kansas State University in Manhattan.
At Baker, the Lions received a 1 rating - one of only four bands to receive the top mark. In Manhattan, LHS scored a 2 rating overall.
"The kids were awesome," Johnson said about the LHS band's performances at the festivals. "They played very well and they represented our school and community very well."
The festivals at Baker and KSU are the only two competitions the 93-member band will attend this year, said Johnson, who is serving his first year as director of the band.
At Baker, 12 schools from around the area competed. At KSU, the LHS band was one of 33 schools from the region.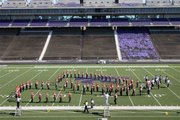 All three judges at Baker awarded 1 ratings to Lansing. The Marching Lions joined De Soto, Osage City and Ottawa as the only bands to receive the coveted rating.
At KSU, Lansing received 1-minus ratings from two judges and 2 ratings from the other two judges, for an overall 2 rating, Johnson said.
"There were a lot of (Class) 6A and 5A schools, so we were up against some tough competition," he said.
In their remarks, the judges at KSU noted that although the LHS band was well-disciplined, members seemed to enjoy themselves while playing and marching.
"As a director, you want to hear that the kids are having fun with what they're doing," Johnson said. "For the judges to see that coming through in their performances is just great."
The festivals, he said, help to reinforce the lessons taught to band members throughout their practices.
"They're confirmation the kids are grasping and understanding what we're teaching. They're being successful at what they've been practicing and learning."
For the students, the festivals are their moments in the spotlight.
"Athletics have their playoffs," Johnson said. "I told our kids, 'This is like our "final season." This is where we see how we stack up against other schools.'"
And the final verdict this year, Johnson said, "was just great."