New commander to take over fort
A former student at the U.S. Army Command and General Staff College at Fort Leavenworth will be the new man in charge of the base.
Lt. Gen. David Petraeus will assume command of the fort this morning, Thursday, Oct. 20, succeeding Gen. William S. Wallace as commander of the base and the Combined Arms Center. Petraeus attended the college in 1982 and 1983.
Fort Leavenworth Public Affairs Office spokeswoman Janet Wray said the change-of-command ceremony would last about 20 minutes and both the outgoing and incoming commanders would speak.
Petraeus' previous, simultaneous posts were command of the 101st Airborne Division deployed in Iraq, and command of the Multi-National Security Transition Command-Iraq and the NATO Training Mission-Iraq. The mission of the last two commands was to train Iraqis soldiers to succeed U.S. troops in providing security for their country.
For Petraeus' new post, he will answer to Wallace, who on Oct. 13 assumed command of the U.S. Army Training and Doctrine Command at Fort Monroe, Va., which oversees the Combined Arms Center at Fort Leavenworth.
Petraeus' 31-year military career includes a stint as chief operations officer for the United Nations mission in Haiti in 1995 and commander of the 82nd Airborne Brigade at Fort Bragg, N.C., from 1995 to 1997. He attended the United States Military Academy at West Point, N.Y., and holds a master's degree and a doctorate in international relations from Princeton University.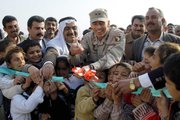 According to the Combined Arms Center Web site, the mission of the center is to provide functional training, leader development and education, collective training, doctrine, training support and lessons learned.
As the center's commander, Petraeus will have authority over 16 Army schools and training centers throughout the country and in Germany, said Maj. Shawn Stroud, the center's public affairs operations officer. These facilities are responsible for a portion of the center's mission, Wray said.
Petraeus will be responsible, Stroud added, for developing leaders, training, lessons learned from Iraq and other wars, and doctrine. He won't necessarily be active in drawing up curricula, Stroud said, but he will oversee development.
"He's the Army's premier trainer," Stroud said.
In addition, Petraeus' role as commander of the base is akin to that of a small-town mayor, Stroud said. Petraeus will be responsible, Stroud said, for maintaining quality of life on the installation for the more than 8,000 soldiers living and working there.