Warner guides Lions to win at Piper
32-20 victory assures
LHS

of postseason berth
Kansas City, Kan. — Piper was supposed to be the team with the all-out air attack, but is was Lansing High's football team that fired the ball down the field constantly Friday night at Piper High School.
The Lions' frequent air strikes paid off as they held off the Pirates, 32-20, in the second game of Class 4A district play.
LHS senior quarterback Matt Warner completed 10 of 20 passes for 262 yards and two touchdowns. He would have had one more scoring strike and possibly surpassed the 300-yard mark, but he had a 34-yard touchdown pass to J.T. Collins called back for clipping late in the second quarter.
"He's just huge," senior Jeff Slater said of Warner. "He's what I like to call an impact player. He makes game-changing plays. He picks the team up in the huddle. He stays calm all the time and he's making smart decisions. He's not throwing into multiple coverage, and he trusted his receivers tonight."
Warner spread his passes out among three targets - seniors Ryan Robbins and David Kern and Slater. All three averaged 23 yards or more per catch against Piper's smaller secondary.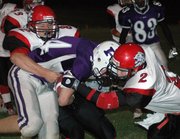 "With me at split end and Jeff at flanker, we're all about 6-2 or 6-3, and he had to guard one of us so we could just throw to the other guy," Robbins said of the multi-receiver attack. "It worked, so that was good."
The Lions (7-1 overall, 6-1 Kaw Valley League) were energized when they stepped onto the field. That, Slater said, was the result of a pep talk from assistant coach Russ Baldwin who recalled losing to the Pirates, 28-21, his senior year when the Lions were 7-1. He challenged this year's players not to let that happen.
The Lions made sure there would be no repeat upset.
The Lansing defense set the tone early as it forced Piper into a three-and-out on the first possession of the game. Then LHS got the ball and used an assortment of runs from tailbacks Kyle Grape and Jeff Slater to march down the field. A 24-yard completion to Robbins in double coverage helped keep the drive alive, as did a pass interference call when Warner looked to Robbins again. A 10-yard sweep to the right by Slater went for a touchdown and gave Lansing a 7-0 lead with 4:40 left in the first quarter.
Piper answered with a five-play, 58-yard scoring drive that took barely two minutes. Beau Beashore's 24-yard pass to Jimmy Burgess capped the drive, but Chris Kubicki missed the extra point, leaving the score at 7-6.
It didn't take the Lions long to respond. They used a series of runs by Slater and fullback Lance Fink to march 33 yards to the Pirates' 35-yard line. Then Warner turned to Robbins again. He hit the 6-foot-4, 215-pound receiver on a deep fade route for a 35-yard touchdown. Slater ran the ball for a two-point conversion and put the Lions on top, 15-6.
Photo Gallery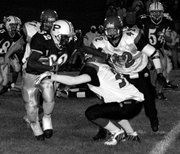 Lansing pops Piper, 32-20
The Lansing High football team beat Piper, 32-20, on Friday night at Piper High School. In doing so, the Lions improved to 7-1 for the season and 2-0 in district play.
Kern intercepted a pass on Piper's ensuing possession. Then Lansing immediately returned to the air. Warner threw deep to Robbins and garnered a pass interference call. After that, LHS pounded the ball on the ground. Slater, Grape and Warner took turns rushing until Grape punched the ball into the end zone on a two-yard run. That put Lansing ahead, 22-6, with 5:59 left in the first half.
The Lansing defense held Piper on the next possession, and LHS got the ball back with 2:10 to work with. Facing first and 20 at the Lansing 36-yard line, Warner fired deep to Slater. Slater made a diving finger-tip catch for a 32-yard gain. Then Warner connected with Collins on a slant that went for a touchdown, but it was called back because of clipping. Warner hit Slater for two more passes, setting up a 27-yard field goal by Robbins as time expired. The kick gave the Lions a comfortable 25-6 lead at halftime.
Lansing needed just two plays to add to its lead in the third quarter. Fink took the first play for a one-yard gain up the middle. Then Warner hit Slater in the flat on the right side. Slater broke one tackle and streaked 67 yards down the sideline for a touchdown. That made Lansing's lead grow to 32-6.
Slater's long touchdown gave the Lions a hefty cushion, but they seemed to lose their focus at that point. They began piling up the penalties - both clipping, holding and a few unsportsmanlike conduct penalties as tensions grew heated between the rival teams - and the Pirates began to mount a comeback.
"I wish that we would try to keep our momentum from the first half into the second half, and I think the way the second half went, it didn't really make it seem like a sound beating or a solid win," LHS coach Bill Pekarek said. "But a win's a win at this point. As long as you come out on top and you get to play that next game and keep moving on, that's what really matters."
Beashore connected with Burgess for a 14-yard touchdown with 9:03 left in the third quarter that made the score 32-14. Steve Lillard had a 70-yard kickoff return called back for clipping on Lansing's ensuing possession. Then Warner threw an interception in the end zone.
The Pirates scored another touchdown with 4:58 left in the fourth quarter that trimmed the Lions' lead to 32-20, Then they forced the Lions into a three-and-out. Piper switched to a hurry-up passing offense as the clock ticked down. After three straight completions that moved the ball to the Lansing 47-yard line, Robbins made an interception that sealed the victory for LHS.
Robbins said the Lions were happy to come away with the victory, but he said it would have been nice to have scored a few more times and had a couple fewer penalties in the second half.
"It's kind of frustrating that we should have put up more," he said. "But a win's a win."
Slater agreed.
"It was a sloppy second half," he said, "but this team has one goal, one mindset, and that's to be district champs."
By winning, Lansing assured itself of a trip to the postseason. The top two teams in each district qualify for the bidistrict playoffs. Lansing is 2-0 in district play, as is Bishop Ward.
LHS will play Ward at 7 p.m. Thursday at Frank Graham Field for the district title. There is more at stake than just a championship, though.
"Next week's game will determine who (gets) home field and who's on the road," Pekarek said, referring to the bidistrict games. The district winners play their bidistrict game at home. The losers go on the road.
Pekarek said home-field advantage is a big deal in the playoffs.
"I really think if you went across the state, I'll bet the home team wins in most of those situations," he said. "I'll bet it's probably 80 percent of the time."
NOTES
- Matt Warner completed 10 of 20 passes for 262 yards and two touchdowns.
- Jeff Slater had six catches for 138 yards and a touchdown. He also had 12 carries for 61 yards and a touchdown.
- Kyle Grape had 10 carries for 43 yards and a touchdown.
- Ryan Robbins had three catches for 93 yards and a touchdown.
- David Kern had one catch for 23 yards.
- Steve Lillard had three kickoff returns for 113 yards.
- Joe Kohl had a team-high 10 tackles. He now has a team-high 91 stops this season.
- Robbins and Lance Fink had seven tackles apiece.
- Lansing outgained Piper 416-255 in total offense.
- Lansing was penalized 10 times for 90 yards. Piper had nine penalties for 90 yards.