The Lansing High mascot may be the Lion, but for LHS volleyball, the mascot of choice may be the "Fanimal."
The "Fanimals" are a group of guys who cheer specifically for volleyball. They are loud, sometimes obnoxious, and they are known for wearing baby animal costumes.
Why animals?
"I don't really know," said Dana Sanders, a senior on the volleyball team. "They have ladybugs. They have bats. They have horses. I think it was just because there are so many different costumes (to choose from). Little kids have so many costumes that are animals."
Whatever the reason for the choice of costumes, the girls say they like the support.
"I think it really helps us get our enthusiasm up," said Whitney Lozenski, another LHS senior. "It pumps us up and makes us play better. It feels good to play for a team that has all these fans, and it makes you do better."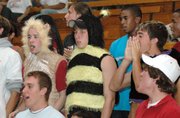 The big crowds didn't always exist. That's why the "Fanimals" showed up. Some of the classmates of the volleyball players wanted to do something special, so they bought Halloween costumes and wore them to volleyball matches.
"The team wanted us there because they're our friends, and at volleyball games there weren't a lot of fans," said Jeff Slater, one of the "Fanimals."
High school students started the "Fanimals", but this year's seniors picked up the trend in middle school. From that group, there were 12 original Fanimals. At one point, the group grew to 17 members.
Although the group has been supportive, it hasn't always behaved itself. It has had troubles in the past. It hasn't always displayed sportsmanship, something that made the school administration mad.
"They kind of got out of hand sometimes," Lozenski said. "They were a little too loud, and sometimes discouraging other teams and not really cheering for us."
Slater said another problem was that guys eventually began to outgrow their costumes.
The "Fanimals" weren't seen at as many matches this year. Only three members showed up in costume to Senior Night. It may be a sign that the group is becoming extinct.
The group's absence was disappointing to some of the players who'd grown up with the Fanimals.
"Back when we were in seventh- and eighth-grade, just watching the volleyball players and watching the Fanimals go crazy after plays, it was exciting to think when we get up to high school it's going to happen for us," Sanders said. "It's a little bit of a let-down that you don't have that and it's our senior year."
Just like the "Fanimals" outgrew their costumes, Sanders said the players understand the absence at volleyball matches is a sign that the guys are growing up.
"I think it's the fact that ever since we've hit high school there's been other things to do," Sanders said. "Back in middle school the thing to do was go to volleyball and high school events. Now that they're in high school they have football, they have homework, they have college applications because they're seniors."