Gridiron clash with Ward to determine district champion
Lansing High football coach Bill Pekarek hasn't had to spend much time reminding his team what's at stake when it squares off with Bishop Ward at 7 tonight at Frank Graham Field.
Every one of the Lions knows a victory would allow them to repeat as district champions. Every one of them knows that a win would give them home field advantage for Tuesday's bidistrict playoff game. Every LHS player knows that a win against Ward, coupled with a Tonganoxie victory over Perry-Lecompton tonight, would give Lansing a share of the Kaw Valley League championship.
The stakes are high. The Lions know it.
"The seniors that we've got here, and all of the juniors, we all understand that the district championship is the only thing we're accepting right now," senior tailback Jeff Slater said. "We don't want to be runner-up. We want home field advantage, and that's what we're going to get."
Bishop Ward (4-4 overall, 4-2 KVL) will have something to say about that. Ward has played its best football of the year in recent weeks. It has won three straight, beginning with a 33-8 whipping of Bonner Springs. Then it pounded Piper, 34-14, and blasted Basehor-Linwood, 35-7, in district play.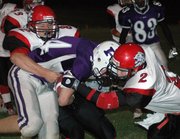 The Cyclones have a strong offensive line and a shifty tailback in Jason Hendrix (217 yards rushing against Piper).
"They run some option, but that's not what they hang their hat on. They'll mostly just run right at you," LHS coach Bill Pekarek said.
Lansing (7-1, 6-1) hasn't been as sharp defensively in recent weeks, but Pekarek said that would be corrected by kickoff. The biggest issue, he said, was that his players weren't getting their shoulder pads low enough when tackling. Therefore, tackling drills took precedence during practice this week.
Offensively, the Lions have shown progress during the last three weeks. Most notably, senior quarterback Matt Warner has been on fire. He completed 10 of 20 passes for 262 yards and two touchdowns against Piper. That was the fifth-best effort by a quarterback in the metro area last week, according to The Kansas City Star.
Senior Ryan Robbins emerged as a greater threat as he caught three passes for 93 yards against Piper. Slater also has found his niche against the Pirates as he caught six passes for 138 yards and rushed 12 times for 61 yards.
"Offensively, we just need to be able to run the football and use play-action passes," Pekarek said. "We feel like they don't run a lot of different defenses at you, so we feel pretty good about that. We just need to come off the ball and execute our stuff."
SENIOR NIGHT
Tonight is Senior Night at LHS. Festivities will begin at 6:30 p.m. on the south end of the track in front of the home bleachers. The football seniors and their parents will be recognized first, followed by the band, cross country team and girls tennis team.