Lions face Bishop Miege for trip to quarterfinals
The Lansing High boys soccer team has a Kaw Valley League championship and a 15-2 record to its credit.
The Lions have outscored their opponents 40-4 during their current six-game winning streak. They have two players who have scored 20 or more goals this year.
Those all are reasons for Lansing to have confidence when it plays its most high-stakes game of the year at 4:30 p.m. today against Bishop Miege for the regional championship at Lansing Middle School. At stake is a trip to the Class 5A state quarterfinals on Tuesday.
Lansing knows Miege (12-4-1) will give it all it can handle. After all, two of the Stags' four losses are to St. Thomas Aquinas - the No. 1 team in the state and No. 24-ranked team in the nation.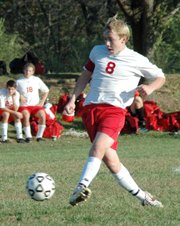 "We went down and watched them (Monday) night," Lansing senior Mike Bayless said of Miege. "They're really fast. They play the ball around and they have some good passing. They're probably around our size and they have about our skill. It's going to be a pretty evenly matched game."
Bayless said Miege likely would play a similar style of soccer as Mill Valley. The Jaguars, the lone team to beat the Lions this year, used their speed to score on breakaways. Miege will do the same.
If Lansing is going to win, it will be important to continue to generate lots of offense, senior forward Brad Mock said. Given the offensive prowess of both squads, it isn't likely to be a 1-0 game.
"What we need to do is get on the board early against Miege," Mock said.
The Lions have been sharp as of late. Each of their last two games have been 10-0 victories. They also haven't allowed their opponents to attempt a single shot on goal during either of those games.
For a full recap from the Lansing-Bishop Miege game, check out lansingcurrent.com on Friday morning.