Red Ribbon week prompts drug awareness
Lansing Middle School students are "too smart to start," and fourth- and fifth-graders at Lansing Intermediate School are learning how they can be anything they want to be this week.
During Red Ribbon week, which started Monday, students at both schools are participating in education and awareness programs about drugs, alcohol and tobacco.
Marianne Walker, LIS counselor, is coordinating events for her students, which included kicking off the week with the Lansing Lion mascot distributing ribbons to the students.
"They were really excited to have the lion in school," she said.
Other activities include signing a "Pledge to be drug-free" banner, creating door hangers to "close the door on drugs" and participating in a spirit day on Friday, where everyone is encouraged to wear red clothing. Lansing High School Leadership students are helping with events throughout the week, Walker said.
Walker is teaching the students about how drugs can affect their bodies, how students have to make the right choice for themselves even if friends are using drugs and resistance skills, she said. The goal of her programs is awareness and "trying to get them to bring the conversation home," she said.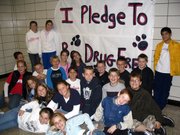 In her four years at LIS, Walker said students have consistently come into her programs knowing a little about drugs and "knowing it's not healthy, not a wise or safe choice to make." What has changed, she said, is that students now know more slang terms for drugs, particularly fifth-graders. They are also aware of more kinds of drugs.
"What's gotten scary is kids know about huffing," which is breathing fumes to get a high, Walker said.
Walker's program includes a short play about inhalants for the fifth-graders, whom she said she thought were more easily influenced because they are preparing to go to middle school next year.
Three fifth-grade students, Megan Goebel, Morgan Bromell and Ali Scheurer, said they all planned to stay drug-free and had learned skills for resisting drugs, alcohol and tobacco. They suggested saying no or "thank you but no thank you," walking away or screaming if someone offers them drugs. They said a video, discussions and worksheets about avoiding drugs are preparing them for a more intensive D.A.R.E. course that fifth-graders take in the spring.
Drug-awareness education does not end with D.A.R.E., however. The Just Say No club at LMS has prepared activities for sixth-, seventh- and eighth-graders for Red Ribbon week, said Kelly Riemann, club sponsor. The club arranged dress-up days for this week, including "Hats off to a drug-free life" on Thursday, where students can wear hats, and "Friends don't let friends do drugs," where students dress alike, on Friday.
LMS students also received a ribbon bracelet with a number on it, which allows them to win prizes. Riemann said about 10 prizes were awarded at the end of each day this week. Prizes include water bottles, footballs and keychain flashlights, all emblazoned with drug-free messages.
The club's focus isn't limited to Red Ribbon week, Riemann said. The club, consisting of about 20 students who organize activities open to the whole school, will continue providing education programs and drug-free activities throughout the year. Upcoming events include a day of bingo, modified to "Say No"; a trip to ice skate at Crown Center; and a dance, which will be the group's main fundraiser for the year, Riemann said.