Seaman stuns
LHS

at sub-state
Vikings rally past Lions late in game three
Tecumseh — A No. 5 state ranking, a raucous crowd and a three-point lead at match point weren't enough to push the Lansing High volleyball team into the state tournament.
In a stunning turn of events, Seaman erased Lansing's 24-21 lead in game three and stole the Class 5A sub-state title.
"I was happy with the way we played the third game," LHS coach Julie Slater said. "There at the end we didn't get the breaks."
Lansing (30-6) played the way it wanted to on the final points. The ball just didn't drop for them. Breanna Lewis, Seaman's 6-foot-6 middle blocker, smashed a kill. A communication error made the score 24-23, and senior Casey Welch's attack sailed two feet too long, tying the score. After a Lansing timeout, Seaman stepped up its blocking and eventually pulled out the win.
"That's they way it goes," Slater said. "You go for the jugular when you're up 24-21. Absolutely that's the right thing to do."
Photo Gallery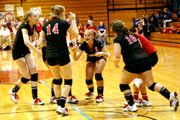 LHS volleyball falls in sub-state finals
The Lansing High volleyball team lost to Topeka Seaman in dramatic fashion in the sub-state championship match on Saturday at Shawnee Heights.
The rollercoaster finish capped a wild day for Lansing. It pounded Wyandotte, 25-2, 25-4, in its opening match. Seaman presented a more talented foe, however, and it took LHS a while to adjust.
Seaman cruised to a 25-19 victory in game one. Then the Lions stormed back behind seven kills from Welch to take game two, 25-9. Then came game three.
The Vikings (20-14) surged to a 6-3 lead before the Lions came back and tied the match at 11-11. The teams traded leads until the Lions rattled off four straight points - three kills by Welch and an ace by senior Keele McLaurin - to go up 24-21.
That's when Seaman called timeout and everything changed.
"You get nervous," senior Dana Sanders said of the situation. "You feel like, 'OK, it's only one more point. But don't mess up.'"
The Lions only made one mistake after the timeout, but the Vikings played flawless while scoring five unanswered points.