Thunder rolls to championship
Leavenworth Thunder coach Rob Elkins didn't know what to expect when he took his team to the 2005 TRYSA Coca-Cola Classic Soccer Tournament in Emporia on Oct. 15-16.
The Thunder, a 12-and-under squad that is part of the Leavenworth United Soccer Club, had struggled at times throughout the season because of its tough league schedule in the Premier 1st Division of the Heartland Soccer Association.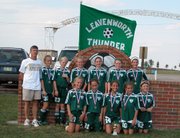 Upon arriving in Emporia, the Thunder gave Elkins plenty to smile about as they battled through pool play and eventually won the tournament championship.
The Thunder began pool play with a 0-0 tie with the Wichita Lady Titans Blue, and then upended the McPherson Strikers, 1-0. They also tied the Iowa Johnson SC Blast, 2-2.
The Thunder gelled during their 3-0 victory over the KC Legends during the semifinals.
In a rematch of a scoreless pool play game, the Thunder faced the Lady Titans Blue in the championship game. The Thunder fell behind early in the second half but stormed back to win, 2-1.
Team members were Emma Bassette, Paige Brandt, April Elkins, Shyanne Gergick, Alyssa Hochard, Kelsey Merrigan, Madeline Minchew, Charlotte Moe, Jennifer Nye, Haley Schaefer, Ann Schmidt, Liz Todd and Adriane Woodruff. Joan Nye is the team manager.