Agency makes 1st county match
Big Brothers-Big Sisters pairs Lansing youth with mentor
Crystal Mildner and Allysa Fisher aren't even real sisters, but as soon as they met, they found a point they couldn't agree on.
"I don't want her to spend money," Allysa said.
"I'd like to spend some money on you," Mildner told her new little sister.
The pair were the first match of Big Brothers-Big Sisters of Leavenworth County program. The local branch is a new affiliate of the nationwide nonprofit organization that connects children ages 5 to 17 with adult mentors.
Mildner, 22, and Allysa, 10, met Monday at the Big Brothers-Big Sisters office, 509 Shawnee St. in Leavenworth, and were discussing their expectations when the point of contention came up.
The new "sisters" both seemed pleased, however, with each other and with the multitude of common interests they discovered - painting nails, shopping, eating out and going to the park or library. Mildner was also excited to help Allysa with her math homework.
"I love math," she said.
Mildner, of Leavenworth, is a registration secretary at Saint John Hospital who is earning her bachelor's degree in health administration at the University of Phoenix in Kansas City, Mo. Allysa is a fifth-grade student at Lansing Intermediate School who just moved to town from Leavenworth. Her mother, Angela Williamson, signed up Allysa for a Big Sister to help her adjust.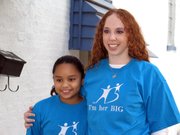 Big Brothers-Big Sisters of Leavenworth County opened June 1. Debra Kendall, program case manager for the local branch, said that since then, she has been "busy laying the groundwork" for the program by talking to school and social service agencies to find candidates for both "Bigs" and "Littles," as she calls them.
In addition to the community-based program through which Mildner and Fisher met, Big Brothers-Big Sisters offers two other programs: Bigs in Schools and Mentoring Children of Promise, which is specifically for children with incarcerated parents. Mentors for Bigs in Schools must be 16 years old and commit to 30 to 45 minutes per week for one school year. For the other two programs, mentors must be at least 18 years old and commit to spending three to four hours per week with a child for one year.
Kendall said she has received far more applications for Littles than for Bigs. On Monday, she said she had four children on the waiting list for a mentor and 30 more being processed; only three mentors had been approved and 10 were in the process, she said. Each Big can only be paired with one Little, she said.
The agency has a "very intense screening process," Kendall said. To become mentors, applicants need references from their employers, four background references and five background checks.
Once applicants pass the screening process, they fill out a list of interests so they can be matched to children who would enjoy similar activities. Kendall said the whole process takes a lot of energy.
"We don't just throw people together," she said.
Kendall said anyone interested in volunteering can stop by the office or call her at 651-2600. She is "in desperate need of some men volunteers," she said.
"Most little boys, they want a guy they can hang out with," Kendall said.