Council hears praise for city employees
The second-in-command at the city's Economic Development/Convention and Visitors Bureau has earned recognition as the city's Employee of the Quarter.
Lorraine Gluch was honored during the Lansing City Council meeting on Thursday, Oct. 20.
Gluch, who is assistant to department director Shanae Randolph, has worked for the city since 1994, starting out in the Administration Department before moving to Economic Development/CVB a couple years ago.
"She's been a very large part of the growth of Lansing DAZE, the Fourth of July celebration and the national automobile tour that we had at the museum not too long ago," City Administrator Mike Smith said of Gluch, who also worked to organize the Kansas Mayor's Conference earlier this year in Lansing.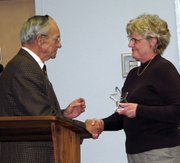 The council also watched as representatives of the Lansing Veterans of Foreign Wars presented detective Scott Crawford with their Police Officer of the Year award.
In other business, the council:
¢ Heard Mayor Kenneth Bernard proclaim October "Domestic Violence Awareness Month." Sister Jane Albert Mehrens of the Leavenworth County Sexual Assault Center thanked Bernard and the council: "I just want to thank you for the privilege to be here and to receive this proclamation on behalf of the women and children who have benefited and who are currently being kept safe in both of our shelters in the southern part of our county and in Leavenworth itself," Mehrens said. "I appreciate what your police officers do for us and their prompt response when we have a difficulty; it's just amazing."
¢ Approved on a 7-0 vote, with Council member Don Studnicka absent, an ordinance rezoning Lots 7 and 8 of Gambles Replat. The lots, adjoining Lansing Lumber, will be rezoned from Light Industrial to Duplex Residential. The Lansing Planning Commission recommended the rezoning at its Sept. 21 meeting.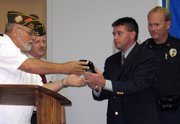 ¢ Denied on a 7-0 vote a request for an exception to the fence ordinance at 1233 De Soto Road.