Economic development director is city's 2005 Employee of the Year
Shanae Randolph was diligently taking photos during the 12th annual Recognition Dinner when her boss, City Administrator Mike Smith, stood at the lectern to award the city's Employee of the Year Award.
Smith started describing how the 2005 Employee of the Year had begun work with the city right out of college in 2001, how she organized and was a big reason behind the success of Lansing DAZE, how she's responsible for planning the city's Fourth of July celebration, and is working on making the Regional Prisons Museum a reality.
"Everything she does," Smith said about the honoree, "it's just unbelievable the way she takes it and runs with it."
The most surprised person in the audience of about 130 people was Randolph, the evening's photographer and the city's director of Economic Development/Convention and Visitors Bureau. Smith was describing her.
"I was very surprised," recalled Randolph, whose camera suddenly had been whisked away by co-worker Lorraine Gluch.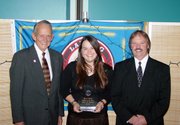 Randolph needn't have been stunned. She was one of four nominees for the award, the winner of which is selected by Smith from winners of the year's Employee of the Quarter awards.
"Shanae is a very important part of this city," Smith had said back in April, when Randolph was named Employee of the Quarter for the second quarter of 2005. " I don't think I can do things that she can get done. I just can't say enough good things about her."
All those good things Smith had to say in April were repeated during the award presentation Monday.
Randolph was humbled by it all.
"I am extremely honored to have been chosen as Employee of the Year," she said. "I appreciate all of the kind words that were said about me. I thoroughly enjoy working for the city of Lansing.
"It's nice to work for and with such great people. There are so many wonderful projects going on in the city, and it's exciting to be a part of it."
A dinner catered by Overlook Restaurant and the evening's events, at the Lansing Community Center, also included recognition of those residents serving on various city boards and commissions, community volunteers, the presentation of awards to long-serving city employees and the presentation of awards to city employees meeting safety goals.
Smith said the annual event continues to grow.
"We just have so many volunteers and great city employees," he said.