Main St. patience urged
Multimillion-dollar project
News that the $11.3 million Main Street System Enhancement project would last two construction seasons came as a surprise to Mayor Kenneth Bernard.
"Maybe I missed something somewhere," Bernard said. "But I thought the reason they were trying to bid it during the winter was so that they could get it done in one year."
The project, in which the city and Kansas Department of Transportation are partners, likely will be put out for bid in March 2006 with construction beginning shortly afterward. And, Public Works director John Young said, the work will require two full construction seasons - meaning construction will stretch from 2006 into most of 2007.
"I guess I'd tell the people to be patient," Bernard said. "It's going to be a time-consuming project."
Young briefed the City Council last week on the project, which will stretch from just north of Gilman Road to Connie Street. Improvements include widening Main Street from Connie to Ida Street to include a center turn lane, rebuilding the bridge over 7-Mile Creek, reconstructing medians from Gilman Road to Ida Street and constructing a "reverse frontage road" from West Mary Street to West Kansas Avenue.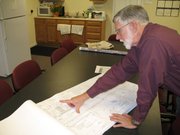 "The biggest thing this is going to accomplish is that it's going to keep us from having gridlock in the next four to 10 years," Young said in an interview this week.
He pointed out that traffic projections on Main Street into the next 20 years forecast up to 40,000 vehicles per day, up from the current 20,000 vehicles per day.
"We've already got slowdowns and backups on the roads at peak hours," Young said.
During much of the construction, traffic will be restricted to one lane southbound and one lane northbound on Main Street.
Young said the two years of construction on Main Street would be a challenge for the city, its residents and businesses, but the project was necessary.
"Basically, without this improvement, businesses would suffer desperately because traffic's going to be so bad that the only traffic going through there is the traffic trying to get through," Young said. "There's not going to be opportunities to turn into the businesses. There's not going to be opportunities to get out of the businesses without the improvement."
The goal of the project, Young said, is to maintain a "usable average traffic speed" of 40 mph, "which will leave the kind of gaps you need to get in and out of these commercial areas."
KDOT, which awarded the project in 1999 as part of then-Gov. Bill Graves' comprehensive highway program, has given the city a seven-phase plan for construction.
"We do not have date-certains for any of these phases," Young said. "Some of these phases may be moved around. We won't really have an idea of exactly when each phase will begin until they have let the bids and contractors have turned in their schedule, because every contractor is going to put in something slightly different."
During Young's presentation last week, Council member Billy Blackwell asked whether any planning was under way to ease the impact on businesses during construction.
"I thought when we did the northern part of Main Street, we had some problems up there," Blackwell said. "Some of the businesses were suffering because they had people who wouldn't even go in there because they couldn't get out. Have we done something to look at or study what we could do to minimize that situation?"
Bernard and City Administrator Mike Smith said the city had been looking at a model used by a Texas city that had undergone a similar project. That city helped businesses with advertising during construction in an effort to draw customers.
"It's going to be disruptive," Bernard said. "So we want to do what we can to keep customers coming out."
Young said KDOT and the city would work "on a daily basis" during construction to do all they can to ease the pain for businesses and their customers.
"We can't avoid the inconvenience, but we will do everything we possibly can," he said.
The city's Public Works director said KDOT officials were "very sensitized" to helping businesses and their customers during construction. It's just one area in which the state transportation officials have been helpful, he said.
"KDOT is spending 80 percent of the money (on the project), but they have been very good to work with," Young said. "They have accommodated the city every way they can without jeopardizing the standards that they have to live by. Their staff has been wonderful."