DISTRICT

DOUBLE

: Lions repeat as champions with 26-7 win over Cyclones
Defense sparks huge second half as
LHS

rallies for victory
Since the first day of practice, the Lansing High football team has talked about going one step farther than last year.
The Lions - the third-place team in the Kaw Valley League in 2004 - were district champs and bidistrict champs before ending their season with an 8-3 record.
On Thursday night at Frank Graham Field, the Lions came one step closer to surpassing last year's success. They hammered the Bishop Ward Cyclones, 26-7, to claim a share of the KVL championship. They also won the district title for the second year in a row.
The league crown is split three ways with Lansing, Tonganoxie and Perry-Lecompton. All three teams have just one league loss. Tongie's 24-21 overtime victory against Perry on Thursday night created the three-way tie.
"We were hoping that we could get ourselves into at least a tie for the league title, so that's great," LHS coach Bill Pekarek said of the championship. "That's what we were hoping would happen and it came through."
The Tonganoxie victory also means Lansing will play host to Perry at 7 p.m. Tuesday in the bidistrict playoffs.
Photo Gallery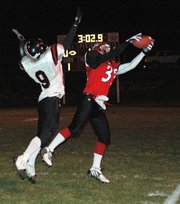 Lansing beats Ward, captures second straight district title
The Lansing High football team beat Bishop Ward, 26-7, and captured its second straight district championship.
"We'll see who the real league champ is," said Lansing senior Logan Ryan, noting that the two squads never got to play each other in the regular season.
For a while Thursday night it looked like the Lions might be playing their final home game of the year. They were out of sync for most of the first half, beginning with the first play. Quarterback Matt Warner connected with Jeff Slater on a 39-yard pass play, only to have it called back for a penalty. Later on the same drive a bad snap pinned the Lions back on their own four-yard line. Then came a delay-of-game penalty on the next play.
Ward quickly marched down to the Lansing three-yard line on its ensuing possession, but Ryan hit Ward tailback Jason Hendrix for a three-yard loss on fourth down to halt the scoring threat.
After Lansing's next drive stalled out, Hendrix returned the ensuing punt 67 yards to the Lansing 10-yard line. He later scored on a three-yard run. Beau Stoker's extra point gave Ward a 7-0 lead with 3:14 left in the first quarter.
The Lions pulled within 7-6 when senior fullback Lance Fink scored on a one-yard plunge up the middle. Ryan Robbins' extra point try was unsuccessful.
Both teams' offenses began stalling out the rest of the half, but Ward had a golden opportunity to add to its lead just before halftime. Lansing punted with 4:35 left in the second quarter. Senior Steve Lillard was ejected after the play for arguing that he had been held on the play. The unsportsmanlike conduct penalty gave Ward a first down at the Lansing 30-yard line.
Ward drove inside the 10 before a confusing series of events took place. Quarterback Stephen Maurin fired a pass to receiver Chris Wing. Wing was drilled by Lansing's David Kern. The ball popped lose and appeared to be an incomplete pass. Fink picked the ball up and held it out to hand it to the official, but Wing hopped up and batted the ball lose. It turned out the whistle never had been blown. Wing's drop was ruled a fumble. Then Fink was ruled to have fumbled the ball back to Ward.
The Cyclones (5-4, 4-3) were given a new set of downs at the 10-yard line, but the Lions' defense held strong. J.T. Collins intercepted a pass in the end zone on fourth down to snuff out another dangerous situation.
The Lions (8-1 overall, 7-1 KVL) may have lacked focus during the first half, but that changed at halftime.
"When we got in that locker room, the way we talked got everybody refocused," senior Brett Wessel said. "We knew that we'd made mistakes in the first half, and we knew if we got rid of them there was no way Bishop Ward could stay with us. As soon as we came out of that locker room we had flipped the switch and we were coming out pumped."
Added Ryan: "It took us a while to wake up. We knew we had to win this game. We had a lot on the line and we just had to win it."
The Lions played like a different team in the second half. They were focused, disciplined and aggressive. They forced the Cyclones into a three-and-out on their first possession of the third quarter. Collins returned the ensuing punt 22 yards. A series of runs by Fink and Jeff Slater set up Warner's five-yard touchdown pass to David Kern. That gave the Lions a 13-7 lead.
The LHS defense held again on the next possession. A sack by Ryan and Ryan Robbins forced Ward to punt. After a Lansing three-and-out, Ward turned to its air attack to drive the ball to the 11-yard line. Then the Cyclones went back to Hendrix on the ground. He coughed the ball up and Wessel recovered the fumble on the eight-yard line. That preserved the lead and gave the Lions the spark they needed to close the game out.
"When they were driving down there and we got that fumble recovery, it seemed like that did change the momentum of the game," Pekarek said of Wessel's play.
Lansing marched 80 yards on its next possession before Warner threw an interception at the 12-yard line. Ward's ensuing drive didn't last long, though, because Lansing linebacker Joe Kohl picked off a pass four plays later. Shortly thereafter, Warner hit Kern with an 11-yard touchdown pass that gave LHS a 20-7 lead with 6:41 left.
Ward mounted one final threat as it marched to the Lansing 17. After that, Ryan had another sack. Then Ward returned to its air attack, but heavy pressure by Jason Bowman kept the Cyclones from gaining any more yardage. Kyle Grape broke up the final pass on the goal line to preserve the win.
Lansing added one final touchdown when Slater scored on a four-yard toss play to the right as time expired. Pekarek said he was irked by the late touchdown, and he said he understood that Ward coaches were displeased with it, too.
"We shouldn't have scored that last touchdown," Pekarek said. "I was trying to get a kneel-down on that last one, and it was a miscommunication I guess. I apologize for that to Ward High School. Their coaches were very upset about it."
With the exception of the final play, Pekarek said he was proud of the way his squad performed - especially during the second half.
Now Lansing will turn its focus to going after another bidistrict championship as it prepares for Perry (8-1, 6-1).
NOTES
- Lance Fink led the Lansing offense with 15 carries for 95 yards and a touchdown.
- Jeff Slater rushed 13 times for 51 yards and a touchdown.
- Matt Warner completed six of 14 passes for 112 yards and two touchdowns.
- David Kern had three catches for 28 yards and two touchdowns.
- Kern had a game-high 14 tackles.
- Joe Kohl had 13 tackles and upped his season total to a team-high 104 stops.
- Logan Ryan had 12 tackles and 1.5 sacks.
- Jeff Slater had 10 tackles and two sacks.
- Lance Fink had 10 tackles.
- Ward outgained Lansing 283-268 in total offense.
- The Lansing defense forced four turnovers in the game. Brett Wessel recovered a fumble, Joe Kohl had two interceptions and J.T. Collins had an interception.