Spooky Center
Hundreds turn out for annual Halloween party
Photo Gallery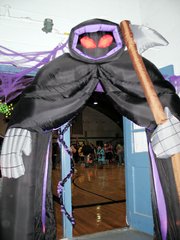 Lansing Spooky Center 2005
Hundreds of children descended Saturday on the Lansing Activity Center for this year's Spooky Center. This year, organizers of the center, divided the day into sessions for younger and older children.
The annual Lansing Spooky Center was split in two Saturday, but that didn't seem to bother the hundreds of children attending.
The annual Halloween party, sponsored by the city's Parks and Recreation Department, had sessions for children in third grade and younger and a later session for those in fourth through eighth grades.
For more on the Spooky Center and other Halloween activities, see Thursday's Current.