LHS

in spotlight at Tongie looms
Season-opener will set tone for
KVL

season
The Lansing High football team was the surprise squad in the Kaw Valley League in 2004 when the Lions shook off a 0-2 start and won eight games in a row.
After marching all the way to the second round of the Class 4A state playoffs, however, the Lions won't be surprising anyone this year.
That's just fine with senior quarterback Matt Warner, who was pumped up when he learned that LHS was ranked No. 25 in the Metro Sports Super 25 preseason poll and No. 4 in the Kansas City Star metro small-class rankings.
"I kind of like it," Warner said. "I don't think there's any pressure. All I know is that anything less than last year is a disappointment. I just want to have a great year and have 'em talking more about us next year."
Senior fullback Lance Fink said the early exposure does add a little bit of weight to the Lions' shoulders, but he said that's a good thing.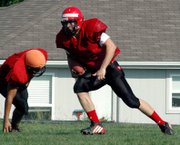 "People out there know us now," he said. "We're getting our name out there. It puts some pressure on us, but in a way it helps us because that's just one more thing that pushes us and motivates us. We've got to be that much better to keep going up the top 25."
Although the Lions have enjoyed the early exposure - which also included a 90-second minifeature about the team on Metro Sports' high school football preview show last week - fifth-year coach Bill Pekarek said his players are well aware that preseason polls really don't mean anything. It's what you do on the field that counts.
"That's nice that we're getting some attention," he said, "but now it comes down to stepping up, because everybody's going to want to knock you off. We've got to be ready to play."
The Lions' first test of the season will come at 7 p.m. Friday night when they play host to Tonganoxie at Frank Graham Field. Pekarek is concerned about the Chieftains for a number of reasons. Most notable is the fact that LHS hasn't had much success against Tongie in recent years.
"We haven't won our opening game in three years. We've been beat by Tonganoxie for three years straight," Pekarek said. "We want to change that. We want to get off to a better start."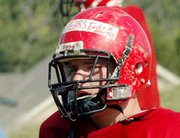 The Chieftains won last year's game 26-8 at THS when the Lions compiled just 33 yards of total offense. The Lions didn't block effectively or pass efficiently during that game, and the offense isn't yet up to par this season, Pekarek said.
Pekarek saw some things he liked Thursday at the Red-White scrimmage, such as a pair of touchdown passes to senior Ryan Robbins, but the offensive line didn't block well, so the running game struggled.
Pekarek said some of the offense's struggles might have been caused by the LHS defense, which showed standout performances from Robbins, senior Brett Wessel, senior Logan Ryan, juniors Joe Kohl, junior Daniel Eyerly and sophomore Brad Terron.
"If you want to be a playoff team, if you want to be a league champion or something like that, you've got to know what to do. You've got to come off the ball and smack people in the mouth," Pekarek said.
Pekarek said he expects Tonganoxie to try to run the ball a lot, but he said the Chieftains would bring a new look to the field this year because they have a new quarterback and new running backs. Still, he said he's not as concerned about what Tongie does as he is focused on making sure his players execute properly.
"I'm more worried about us right now, about us getting better and doing the things we need to be doing," Pekarek said. "Everything else will take care of itself. We have certain things that we know we need to be able to do against them to be successful, and we've been practicing that for two weeks now."