Manago paces Lions with fourth-place finish
Mayes also notches top 10 finish in first meet of year
Tonganoxie — In past seasons, asthma has made the first few cross country meets of the season painful for Bianca Manago.
Not this year.
Manago, now a Lansing High junior, has been winning the battle with asthma so far this fall, and it was evidenced by her strong performance Thursday at the Tonganoxie Quadrangular.
Manago raced near the front of the pack from the beginning and and placed fourth overall in 13:54. Tonganoxie sophomore Christy Weller won the varsity girls' race in 13:24.
"I've done a lot better this year (handling the asthma) and definitely my mental status is better. I'm more relaxed," Manago said. "A lot of running and a lot of asthma is mental just like anything else, so when I've calmed down this year it's helped with my asthma, and now that I've got this first race over with, I'm working on a running start."
Manago's effort wasn't the only strong performance for the Lansing girls. Senior Ashley Mayes placed 10th in 14:15 and senior Erin Eustice was 14th in 14:40.
Manago, Mayes and Eustice were Lansing's only runners in the varsity race. It may be a small squad, but Manago said it was a close group with high expectations for both the present and the future.
Photo Gallery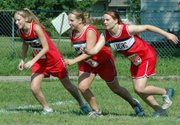 Cross Country opens season at Tonganoxie
The Lansing High cross country team opened its season Thursday at the Tonganoxie Quadrangular. The meet was moved from its usual spot on the school campus to the county fairgrounds because of construction.
"I'm going to really miss the two seniors next year. I think about that all the time in practice. I don't know how I'm going to deal (with it)," Manago said. "But we've got some younger runners that hopefully will step up for us so we can get a bigger team next year."
The LHS boys received a balanced effort from their top three runners as they earned a third place finish in the team standings behind Kansas City Christian and Tonganoxie. Sophomore Griffin Davis paced the Lions as he placed 11th in 19:45. Jim Mayes was close behind in 13th *20:16) and Stewart Jones was 14th (20:39). Matt McCurry (21st, 21:41) and Jason Gibson (23rd, 22:49) rounded out the varsity squad.
FLIPPO SHINES IN JV RACE
Junior Lori Flippo, a transfer from Leavenworth High, battled near the front of the pack for the entire junior varsity girls' race before ultimately placing third in her first meet of the season. Flippo cruised the two-mile girls' course in 15:47.
On the boys' side, freshman Wes Applegate decided last week to run cross country. In his first race he paced the JV boys' squad with a 17th place finish on the five kilometer course. His time of 23:41 was one second ahead of teammate Trenton Dorf.