Music creates well-rounded, productive society, teacher says
Becky Harris says music and arts education is important in forming a well-rounded student.
As a band director, she may be biased, but she backs her point with reasons.
"Music teaches so many things besides just how to play an instrument," Harris said. She said students learn social skills, teamwork and time management skills by being part of a band.
And helping students cultivate life skills is Harris' goal.
"The main point of education to focus on is becoming a productive part of society," she said.
Harris brings her passion for music education to the Lansing School District this year as the Lansing Middle School band director and Lansing High School assistant band director. She came to Lansing from a 2A school in Alma, a small town between Topeka and Junction City, where she taught band to fifth- through 12th-graders and choir to seventh- through 12th-graders.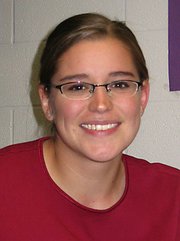 Harris, who is in her second year of teaching, said she came to Lansing in part to be closer to the Kansas City area - her family lives in Gardner - and to gain experience at a larger school. Harris also said she wanted to focus on teaching band.
Not only does she teach band, but Harris is a part of one, too. For the past six years, she has played flute and been the featured female vocalist in the Army National Guard Band out of Olathe, she said.