Teacher appreciates community support for music program
Two band directors are better than one, even if one has to play second fiddle part of the time.
Luke Johnson, new Lansing High School band director and Lansing Middle School assistant band director, said the school district's decision to hire a second band director this year created "a great job opportunity here to step into."
Having a second director in addition to building a new auditorium with a band room shows the community's commitment to music education, he said.
"I wanted to be in a place that supports music and the band program," he said.
Johnson came to Lansing from Dodge City, where he spent two years as the middle school band director and high school assistant band director. Though he is originally from Bismarck, N.D., Johnson said he wanted to be in the Kansas City area because his wife's family lives in Olathe. Johnson and his wife, Alyssa, have a six-week-old son, Max.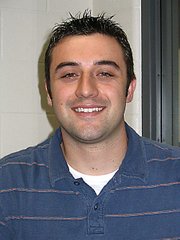 As a new director, Johnson is hitting the ground running. Marching band season begins Friday, and once that ends in late October or November, he said he planned to start practices for a jazz band.
Looking ahead, Johnson said that in the next year or two, he would like to start a color guard to perform with the band.
Though music is often considered a secondary part of students' education, Johnson said the core of his educational philosophy was to keep his students interested in music, even when its importance is downplayed.
"As a music teacher, I feel it's my job to instill a lifelong love for music in kids," he said.