Third-graders in check with chess
Sara Mulford's not searching for Bobby Fischer; she teaches chess because she says it helps kids learn.
"My goal is just to introduce it to them and let them run with it," she said.
Mulford, a third-grade teacher at Lansing Elementary School, takes about 30 minutes each Friday afternoon to teach her students how to play chess. One benefit, Mulford said, is that chess time provides her students an incentive to finish their work so they can play.
But the benefits extend beyond game-playing to skills that students can use throughout school and life, such as problem solving, patience, strategy and planning ahead, Mulford said. It also helps children to realize they have many options, she said. In most situations, Mulford said, when children are faced with a problem, they will choose the first option that becomes apparent to them. Playing chess can help them to learn to look for other, better options than just the most obvious. The game "forces kids to think logically," Mulford said.
This is the third year that Mulford will teach chess to her third-graders. Teaching her students about chess didn't stem from a personal love for the game, however. Mulford, who taught students with learning disorders for nine years before switching to third grade three years ago, said she got the idea to play chess with her class from a friend who teaches gifted students in Leavenworth. Once she began researching the benefits of chess in classrooms, she wanted to try it, Mulford said.
"It's a good thinking game," she said.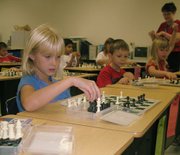 In addition to the thinking skills students can pick up by playing the game, Mulford said she has found that students also seem to better understand geometry terms like horizontal, vertical and diagonal when they can relate those to how chess pieces move. She asks her students to describe their moves to each other when they play, she said, which increases their vocabulary and helps them express their thought processes. Using the chessboard, on which all squares are labeled with a letter and number, helps the students with maps and grids, Mulford said.
On Friday, Aug. 26, Mulford first introduced chess to her current class, but she said some had already figured out that they would get to play. A chess poster and several books about chess in her classroom may have tipped them off, she said.
Even before she told the students they would be learning chess, some had started reading her chess books, Mulford said. Two students were trying to play with a magnetic set in the back of one book during a math lesson, she said. Mulford said the girls' interest was "not a bad thing."
"There are worse things to be sneaking around trying to do instead of math," she said.
For the students' first lesson, Mulford explained the basics of how to set up the board and how pawns move. At the next lesson, students will be able to play each other in "The Pawn Game." Mulford said she starts her students out using just pawns and adds another piece each week.
"They go pretty fast once they start to figure it out," she said.
Mulford said her class this year seemed receptive to learning chess. Her past classes had embraced the game, she said. Some students would ask to stay inside during recess to play, she said, and after winter break, she found that many received chess sets for Christmas. Mulford said a few of her former students tell her that they still play chess.
"Once they get hooked, they're hooked," she said.