Soccer falls at Mill Valley
Shawnee — No matter if the Lansing High boys soccer team wins or loses the rest of its games this season, Lions coach Randy Brown hopes his squad always will be able to feel good about the way it played.
That wasn't the case Thursday at Mill Valley, Brown said, after the Lions dropped a 1-0 decision in a game that they had every opportunity to win.
Mill Valley played a man down for the entire second half after a player was given a red card late in the first half. LHS also held a 12-5 advantage in shots. Still, a spark seemed to be missing, and Brown said his squad had better not let that happen again.
"I don't think we felt good walking off the field," Brown said. "If you don't feel good walking off the field, then during the game and before the game you've got to psyche yourself up to feel good for when you walk off the field, win or lose. That was the problem that we had."
The Lions (1-1 overall, 1-1 Kaw Valley League) started the game flat. Perhaps it was the result of playing an overtime contest the day before against Bonner Springs, but they lacked energy. Mill Valley eventually rode the early momentum wave and capitalized when Cole Rieke drilled a nice through-ball to Alex Linthicum who banked a soft shot off the post and into the net for a 1-0 lead.
"We started off very sluggish," Brown said. "I don't know if it was the game previous and we were still getting those jitters over with, but those first 10 minutes of the game were not good at all," Brown said. "And then we started playing, and I thought it was going to turn into a good game."
After the goal, the Lions turned up the energy and began creating scoring opportunities of their own, but they were unable to finish. A few minutes before halftime a Jaguar player was given a red card. That forced Mill Valley to play a man down for the rest of the game.
"They gave us a gift for us to exploit," Brown said. "They said 'come and beat us,' and we didn't. That's what we have to grapple with and think about. We have to be able to respond in those kind of situations and play our game and pass and give 100 percent all around so that it's a good, solid team effort."
Photo Gallery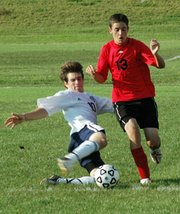 Lions fall at Mill Valley
The Lansing High boys soccer team dropped a 1-0 decision at Mill Valley on Wednesday afternoon. Here are scenes from the game.
The Lions continued to play with better energy in the second half, but they didn't aggressively go after free balls and they didn't communicate very well on the field. That lack of continuity cost them dearly as Mill Valley kept them at bay by continually breaking up runs at the goal.
Lansing had a few chances during the final 10 minutes to tie the game, but Brad Mock and Ty Thackston were unable to convert on chances in the box.
The Lions now will try to regroup before their 6 p.m. Tuesday home opener against Tonganoxie. It will be both a chance to redeem themselves and a chance to gain position among the early leaders in the KVL standings.
"It's a home game so it's a big game," Brown said. "It's going to be on our field, so it's going to be doubly important."
NOTES
- The Lions played without senior captain Mike Bayless. Bayless was on crutches on the sideline after suffering an injury to his left ankle during the season-opener on Wednesday at Bonner Springs. Bayless is expected to miss between one and two weeks.
- The Lions also played without junior forward Andy Dick, their leading scorer in 2004. Dick missed the game because he had to leave school during the day with a fever. He is expected to be back in the lineup on Tuesday.