Lions stun Tongie in final minutes
The Lansing High football team hoped to put the memories of last year's 0-2 start behind it by opening 2005 with a victory.
After 49 minutes of football Friday night against Tonganoxie, however, it looked like the Lions were doomed to a fourth straight loss to the rival Chieftains. The offense wasn't clicking. The crowd was nervous. The players on the sideline looked stunned.
As surprising as Lansing's struggles had been up to that point, the greatest shock came in the final 10:23 when the Lions suddenly erupted with energy and stormed back for a 14-10 victory at Frank Graham Field.
"I'm just proud of our guys, the way they kept fighting," LHS fifth-year coach Bill Pekarek said. "A year ago when we played Basehor and won a triple-overtime game, they never gave up. They kept believing. I think part of that came into this game where they never gave up. They kept believing. They kept plugging."
The Lions (1-0) dug themselves an early hole because the defense was unable to stop Tongie's up-the-gut running game. The Chieftains rushed for 181 yards during the game, and most of them came in the first half courtesy of fullback BT Flemming and tailback Matt Drake. Both backs took turns rushing the ball on the opening drive as THS marched 66 yards on 11 plays before settling for a 23-yard field goal by Jeff Hughes.
Lansing mustered a few short drives by completing passes to receiver Ryan Robbins and tight end David Kern, but the running game was totally dormant during the first half.
Tonganoxie continued to have success on the ground throughout the rest of the half, but despite the success that Flemming and Drake had, the Chieftains elected to blend in a few deep pass plays. Twice they threw deep. Twice they were picked off. The first interception was by Jeff Collins and the second by Joe Kohl. Both picks halted drives when THS was having success running the ball. The interceptions also kept the Lions close enough to strike in the second half.
"I think we felt like in the first half defensively at times we were winning the hitting game," Pekarek said. "We were putting some pretty good shots on them. In the second half they came out and tried to put some shots on us. I felt like slowly, about mid-third quarter on, we started picking it up and things started getting better for us."
It wasn't great during the early minutes of the third quarter. Lansing junior tailback Kyle Grape fumbled the ball on the first play of the half. Five plays later, Hughes, Tongie's quarterback, broke off a 41-yard touchdown run.
Photo Gallery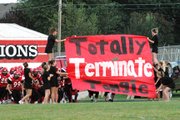 Lions stun Tongie in season-opener
The Lansing High football team stormed from behind in the final minutes to shock Tonganoxie, 14-10, in both squads' season-opener on Friday night at LHS. Here are scenes from the game.
From the 10:06 mark of the third quarter through the end of the game, the Chieftains didn't threaten the end zone again. It almost didn't matter, though, because for a while it looked like Lansing wouldn't score at all.
After a three-and-out by LHS, Kern picked off another Tongie pass and halted a scoring drive at the 14-yard-line. On the next play, Collins fumbled the ball back to THS. At that point it seemed the Lions were finished.
Shortly thereafter the momentum swung. On fourth-and-goal at the nine-yard-line, Tongie attempted a fake field goal. Senior Steve Lillard raced into the backfield and tackled Hughes for a nine-yard loss. Lansing didn't score on the ensuing possession, but the defense stepped up and forced a quick three-and-out. Lansing got the ball back with 10:23 remaining in the game. That's when the game changed for good.
"I noticed it," senior lineman Logan Ryan said of the swagger the Lions seemed to develop. "I felt it in myself where I just started pushing and pushing harder."
With 10:23 on the clock, senior quarterback Matt Warner dropped back and fired a pass to Kern on a 10-yard out pattern. Tongie's Daniel Volk leaped in front of Kern to intercept the pass, but Kern gripped the ball with two hands and tore it away from Volk for a Lansing first down. In an instant the offense was rolling.
"Somebody had to step up," Kern said. "I'm not going to let Tonganoxie beat us again."
Two plays later, Hughes was whistled for a 22-yard pass interference penalty when Warner tried to connect with Kern again. Then Grape - making his first start as the varsity tailback - rushed for a nine-yard gain up the middle. Then came a one-yard gain by senior fullback Lance Fink, another five-yard run by Grape and a three-yard burst from Fink. Grape carried again for five yards, followed by a four-yard plunge up the middle and a one-yard dive up the middle for a touchdown.
With 4:55 on the clock, the Lions were within 10-7.
"I think our guys were giving a great effort, not afraid to smack 'em," Pekarek said. "I thought we slowly were gaining a little bit of momentum there in the second half."
After Grape's touchdown, the Lions forced another three-and-out and got the ball back with 3:11 remaining.
Immediately Warner looked to Kern for a 14-yard gain. Down to 2:57 on the clock.
Then came a run by Grape up the middle. Down to 2:37.
Then a 14-yard pass to Robbins. Only 2:10 left.
A 15-yard completion from Warner to Kern at the THS 26-yard line. The clock ticked to 1:46.
On first down, Warner dropped back and dumped a pass over the defense to Grape. Grape turned and sprinted for the left sideline. Robbins raced in and cleared out the first defender. Grape lunged for the end zone pylon in hopes of evading the second would-be-tackler.
Touchdown.
"I'll tell you what. When we scored that second touchdown, our crowd went crazy," Pekarek said. "Everybody was yelling. Our sideline was crazy. It was great. It was exciting. If you couldn't get excited about watching high school football from watching that, then there must be something wrong with you, because that was great."
With 1:15 to go, the Lions still had to hold on to their recently acquired 14-10 lead. It didn't come easy either. The ensuing kickoff sailed out of bounds and gave THS the ball on its own 40-yard-line. The first play from scrimmage was an 11-yard completion from Hughes to Tyler Miles. Then came a one-yard run up the middle from Hughes. With just 52 second remaining, Hughes handed off to BT Fleming up the middle but Ryan stripped the football from him and dove on it.
Lansing ball. Game over.
"I just ripped through and I saw the ball and just swung at it and knocked it out," Ryan said with a grin. "I popped it out and I saw it fall and muscled it away from him."
Players, fans and friends piled into the LHS locker room after the game to join in the celebration. The Lions had won their first season-opener in four years and taken a major step forward in their quest for a Kaw Valley League title. Their next test comes at 7 p.m. Friday at home against Mill Valley.
"I heard a lot of good comments just walking from the field to the locker room from parents and fans just yelling at us and telling us, 'Hey, good job," Pekarek said. "It's a great way to get started."
NOTES
- Pekarek lauded the effort of offensive linemen Peter Willcott, Brian Cordes, Chris Clemmons, Jordan Pratt and Logan Ryan for their job protecting quarterback Matt Warner throughout the game. Warner regularly had extra time to look downfield to pass. The line also opened up gaping holes late in the game for Grape to run.
- Warner completed 13 of 22 passes for 137 yards and one touchdown.
- David Kern caught four passes for 59 yards.
- In his first varsity start, Grape rushed 15 times for 38 yards. Most of those yards came in the fourth quarter with the game on the line. He also had one catch for 26 yards.
- Ryan Robbins led LHS with a game-high 13 tackles. Joe Kohl added 12 tackles and Chris Mann turned in 10 tackles. Kern had nine and Lance Fink added eight stops.