Lions batter Bobcats
Mock, Thackston net hat tricks in second straight 10-0 win
Basehor — When Ty Thackston buried the final goal of Lansing High's 10-0 boys soccer victory at Basehor-Linwood on Wednesday night, the senior forward let out a ferocious scream and pumped his fist in the air.
It wasn't the fact that the Lions had completed their second straight spread-rule victory in as many days (they beat Tonganoxie 10-0 on Tuesday) that had Thackston pumped up, though. Instead, he was fired up because he'd registered his first hat trick of the season and because he was proud of the way his teammates performed all game long.
It was a far cry from last year's games when the Bobcats got the best of LHS.
"Last year they came back and beat us, so we knew we had to put them away this year," Thackston said. "After we got up 5-nothing, 8-nothing I decided to go for the hat-trick because Brad already got one."
The Lions were able to gain revenge largely in part because of dazzling one-two punch provided by Thackston and fellow senior Brad Mock. Both players were in tune with each other from the opening kickoff. Whether it was Thackston dishing passes to Mock, or Mock to Thackston, they wreaked havoc on the Basehor goal from the opening minutes of the game.
"I've known him since I was probably in third grade," Mock said of his vast experience teaming with Thackston. "Ever since I've lived here he's been with me playing on the same team."
Photo Gallery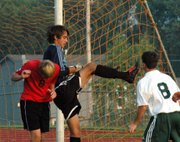 LHS soccer batters Basehor, 10-0
The Lansing High boys soccer team notched its second 10-0 victory in as many days Wednesday when it drilled Basehor-Linwood. Here are scenes from the game.
After two early misfires, Mock put LHS on the board six minutes into the game with his third game-winning goal of the year when Thackston flicked a through-ball in front of the goal where Mock buried it. He added another goal five minutes later off a feed from junior forward Andy Dick.
"I think the key is we got some goals off the bat. Then all of a sudden they're feeling not confident. They're back on their heels and we were able to exploit that," said LHS coach Randy Brown. "If it would have been the other way or they would have answered, it could have been a totally different ball game."
Mock collected an assist in the 21st minute when he fed a pass to Thackston who buried a shot just inside the far post. The Lions had numerous near-misses during the next 20 minutes but were unable to extend their 3-0 lead.
As dominant as Lansing was in the first half, it turned up the intensity another level in the second half. Thackston fed Mock for another goal in the 37th minute. Junior Kyle Buehler scored his first goal of the year unassisted three minutes later. Just 40 seconds later the lead jumped to 6-0 when Gabe Garza's throw-in was redirected into the goal by Thackston's header.
Buehler logged an assist four minutes later when he fired a corner kick that Dick drilled into the net with a header. Alex Brettman later added an unassisted goal and Garza scored on an assist from senior Brandon Rimmey before Thackston closed the game by following Mike Bayless' free-kick that had deflected off the Basehor keeper.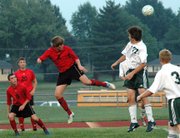 Although the offense stole the spotlight for most of the game, LHS junior goalkeeper Alex Burton delivered a dominating performance between the pipes. He fended off a few early shots with diving saves, and his vocal presence throughout the game helped the Lions maintain their focus during the lopsided victory.
"Alex is a great goalie back there. We feel real confident if they get a breakaway that he can stop them," Thackston said. "He's real vocal and he makes sure everyone isn't losing focus and joking around. He makes sure everything stays serious."
The Lions' offensive dominance so far has been a major improvement from last season. In 2004, they scored just 46 goals in 17 games. So far this year, LHS has 25 goals through four games.
Brown said he likes the aggressiveness his players have displayed up to this point, but he said he's waiting to see the killer instinct appear during a close game later in the season.
"The biggest problem is when you're on, things are happening for you. What you want to do is when you're off, you've got to get things to happen for you," Brown said.
The Lions were unable to make something happen for themselves last week when they lost to Mill Valley, 1-0.
"All it would have taken was one spark," Brown said, emphasizing his point. "A total confidence change would've happened and the outcome would have been different."
Since the Mill Valley game, the Lions have outscored their opponents 20-0 and have showed no signs of easing up. Brown said that has shown him that his players learned from the loss.
"We had a big discussion about psyche, and how you've got to be able to relax, let it flow and be able to play your game," Brown said. "The guys have taken it to heart."
The Lions (3-1) next play at 6 p.m. Tuesday at home against Maranatha Academy.
JUNIOR VARSITY REMAINS PERFECT
The Lansing High junior varsity boys soccer team remained undefeated as it picked up a 2-0 victory Wednesday afternoon at Basehor-Linwood.
The Lions (4-0) got goals from sophomores Ben Hancock and Dennis Wood in the victory. For Hancock, the goal was his fourth in as many games. Wood's goal was his second of the year.
The JV Lions next play at 4:30 p.m. Tuesday at home against Maranatha Academy.